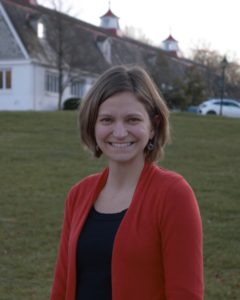 Leah Magyary of Athens has been named Executive Director of the Dairy Barn Arts Center.  Leah has degrees from Ohio University (BSS) and Kent State University (MLIS) and has been employed at the Biltmore Estate, the Thomas Wolfe Memorial and the North Carolina Arboretum, all of Asheville, NC and, most recently, as Director of Donor Relations at Marietta College.
In announcing the appointment, Board Chair Richard Shultz commented, "Leah is an outstanding leader and our Board is confident that her expertise, passion and professional experience are a perfect fit for the Dairy Barn."  She will begin her new role December 16.
Magyary will be on hand to meet those in attendance at the Annual New Year's Eve Party at December 31 at the Barn.  The event features food, cash bar, dancing and live music by the Randys.  It is sponsored by Hocking Valley Bank, Texas Roadhouse and Mark Snider and all proceeds benefit the Barn.  Tickets are available at www.dairybarn.org.