Quilts in Time
July 27: Trunk Show and Contact Plant Dying on Fabric: A Twist on Eco Dying
Artist: Danette Pratt, QN 2017
Catalog #FA002

Danette Pratt is an artist whose work spans the boundaries between painting, drawing and tactile material process. She has interests in memorialized objects and looks at what triggers a spontaneous remembrance. She researches family connections and the formation of early childhood experience and how those memories are triggered with the senses – touch, smell, seeing, hearing, place and environment.  She enjoyed a professional career as a Biological Illustrator and Graphic Artist and was the educational and research publication support for Ohio University Medical College and Life Science faculty for almost 30yrs. During that time, she pursued personal work in fiber, fabric (dye and embellishment), clay sculpture and designed an art doll collection under the name of SeriouslySickSocks™ (zombie sock monkeys and classic monsters). She is a field artist, self taught naturalist and enjoys working outside and living at her country studio in Athens County, Southeastern Ohio.
Start your day at 9am with a coffee & tea mixer.
Morning presentations: To Continue to Be a presentation and Trunk Show with Danette Pratt, QN 2017.
Introduction to Process with Danette will introduce you to her process of eco-dying and get you ready and knowledgeable for the workshop.
We will break for a box lunch and then dive into an original dyeing workshop with Danette at 12:30
*You may pick your box lunch when you register in the form below (Form below)
Afternoon workshop: Contact Plant Dying on Fabric: a twist on eco dying with Danette Pratt, QN 2017.
Danette developed this innovative process last year while working on her thesis exhibit work.  Danette imparts an observant, thoughtful and deeper reason for the dye plant selection for this fabric dye technique. This is an experimental process that the participant can take with them to continue in their own studio practice. The workshop covers everything from preparation, hands-on process to critique of results.
This class would be considered a more intermediate class for someone who has some natural dying experience. It may be challenging for a beginner, but beginners are welcome with that caveat. We will also be using vinegar.
All supplies are provided, including collected plant materials, prepared mordant fabric and paper, dowels for fabric bundles, rubber gloves, vinegar, natural muslin fabric, drawing/watercolor paper, note paper, pencils, tape, sharpie markers, scissors, push pins, ironing boards, irons, & hand sewing supplies.
We will break for dinner on your own, then return from 6 to 8 to finish, present and discuss the results.
Danette will present visuals and examples. She will demonstrate the prepping of materials.  She will guide you in the application of vinegar and binding the cloth on dowels.  The steaming process will take place outdoors.  The wet fabric will oxidize in a shaded out of the sun place.  Everyone will press their pieces, pin up their fabric panels and have a class discussion and take notes & photos.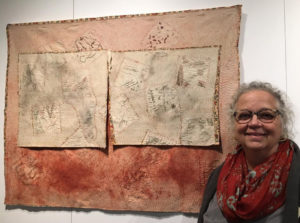 Participant will complete 4 dyed cloths with extensive notes to work from at home.
July 27 Recap:
Coffee & Tea Mixer, Presentations & Talks in the AEP room, 9:30 to 11:30.
Box Lunch provided, 11:30 to 12:30 at the Barn.
Workshop in the Multi-Purpose Room, 12:30 to 4:30.
We will break for dinner on our own and return from 6 to 8 to finish our quilts.
Finishing will take place in the Fiber Studio and pin ups in the AEP Wing.
Cost: $120.00 ($108 for members)
To register for this workshop day:
Fill out the online registration form, submit the form and then pay online (scroll down).
We will confirm your registration via email.