Catalog #FA007    
Itajime Shibori & Indigo Dyeing & Trunk Show with Daren Redman
The Process (Day 3)
August 25: Itajime Shibori & Indigo Dyeing
Artist:  Daren Redman
Catalog #FA007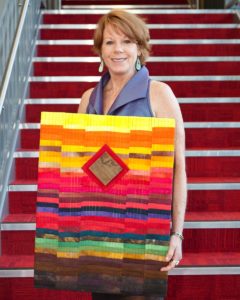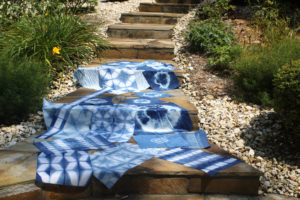 Daren Pitts Redman – Textile Artist.  Daren's art medium is the quilt.  She represents abstract landscapes with endless colors of the leaves, grasses, tree trunks and moss. The Indiana landscape is her constant inspiration.  She cuts her hand-dyed fabrics intuitively to represent surroundings from nature and architecture and from trips with her husband throughout Europe and the United States.
Redman is exhibiting with Quilt National '15 with "Glorious Summer" and '17 with "Indiana Flowers." Redman is an Indiana Artisan, a Grand Canyon artist-in-resident, an Indiana Governor's Arts award artist and tours with Studio Art Quilts Associate Inc. shows, internationally.  Daren has been awarded Indiana Arts Commission grants to create art quilts and natural dyes in the Brown County State Park.
Start your day at 9am with a coffee & tea mixer.
Morning Presentation and Trunk Show: Textiles at the Grand Canyon National Park, with Daren Pitts Redman, QN 2015/2017. Daren will share a slideshow of her artist-in-residency where she hiked the canyon and dyed silks for three weeks to create her many large-scale textile installations at the North Rim.
Morning & Afternoon Workshop-with a break for a box lunch: Itajime Shibori & Indigo Dyeing with Daren Redman. 11 am until 5 pm
Shibori is the Japanese word for a textile technique in which fabric is stitched or folded, bound and dyed. This class will learn how to prepare your fabrics Itajime style using Daren's wooden clamps to create organic or geometric patterns in cloth – clamp and resist.   The compression of the bindings of wooden clamps provided to you in this class will resists the dye, which is Indigo blue. Daren will establish Indigo dyeing vats for all students to color blue until their hearts content.
These hand-dyed fabrics that you create in this class, can be used in art quilts, home decorations and/or wearables. You will learn how to make your own clamps for your future studio work, and will be given instructions for future Indigo Dyeing.
Students may bring up to 3 yards of cotton or silk fabric to the classroom. Sizes from 18 inch to 24 inch are appropriate and bigger. We can cut it up when you get here. This is a very "green" class, no waste and low water usage.
Cotton will also be available to purchase from Daren – $8 yard for Pimatex PFD and $12 a yard for Cotton Sateen PFD by the Robert Kaufman Fabric Co.
We will be using indigo dye in this class, so please dress in appropriate clothing.
August 25 Recap:
Coffee & Tea Mixer
Presentation/Trunk Show in the AEP Wing. 9:30 to 11
Box Lunch provided at the Barn.
Workshop in the Fiber Studio, 11 to 5pm.
Cost: $120.00 ($108 for members)
To register for this workshop day:
Fill out the online registration form, submit the form and then pay online (scroll down).
We will confirm your registration via email.