Catalog #FA006      
Dyeing Wool for Fiber Projects with Meta Nostran & Mary Roediger
The Process (Day 2)
August 24:Dyeing Wool for Fiber Projects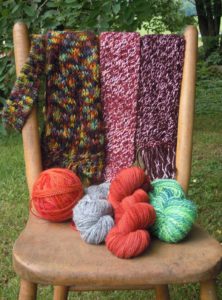 Artist:  Meta Nostran & Mary Roediger
Catalog #FA006
Mary Roediger has been sewing since she secretly (and disobediently) taught herself to work her mother's treadle machine.  She has experimented with nearly every technique involving needles, thread, yarns, fibers, and fabrics and has an affinity for natural fibers.  Mixed media and memory projects are special passions.  Mary is a published author, with articles in past issues of Sew News and Stitch magazines as well as the Ohio 4-H Clothing Project book – em – bel – lish: A Guide to Wearable Art.  Mary, owner of Sew True Designs Studio, is a coutière with over 25 years of experience in garment design and creation. She is a Certified Master Clothing Educator in the Ohio 4-H Program, under the auspices of Ohio State University, which gives her many opportunities to impart her skill and love of sewing to interested children. Mary is currently the Ohio State Director of Make It with Wool, a contest provided by the American Sheep Industry Association to promote the design and creation of wool apparel
Meta Van Nostran has had a career of teaching, exhibiting, and speaking as a home economics teacher, curriculum supervisor and assistant professor at Ohio University.  She has competed, winning awards in The Ohio State Fair, NQA, Bob Evans Quilt Show, and several local NQA judged quilt shows. She was also the Spinners Wool Fleece Judge at the Ohio State Fair in 2016 and 2017. In retirement, she is presently owner of the Wool & Quilting Experience, offering trunk shows to small groups, quilt conservation and restoration, quilting and spinning instruction, and recently self-published two books recording quilts and stories from Athens area quilters while providing the history of a time period as learned through quilts.  She is also currently involved in two research projects, Redwork and Changes in the Lives of Women, and, the Impact of the Fine Arts on Quilt Designs of the early 20th century.
9:30am-2pm
Meta & Mary will share their many projects that use dyed wool.  They will go over types of dyes for wool and products to enhance & stabilize color.  You will learn how to handle the wool during the dyeing process.  You will learn the difference between controlling shrinkage vs encouraging shrinkage.  Many methods will be discussed including overdyeing-what is it and why would I want to do it?  You will prepare the fiber and fabric provided in class and dye enough to do three projects at home. We will be using fabric dyes for this class, so please dress in appropriate clothing.
August 24 Recap:
Workshop in the Fiber Studio, 9:30am to 2pm
Cost: $60  ($54 for members)
To register for this workshop day:
Fill out the online registration form, submit the form and then pay online (scroll down).
We will confirm your registration via email.