We are currently restructuring our open studios programs…  Please check back soon for current details.  -6.3.17-
First & Second Saturdays of Each Month!
The Dairy Barn is proud to bring the community the return of this fabulous series.  The idea is simple; on the first and second Saturday of each month, Lyn will be in the Barn from 1:00-5:00 in the ceramics room or art room, and can help people who walk in off the street create a small ceramic art project.
1:00-2:00 We'll have "Littles and Bigs"
For this parent and child activity, Lyn will have a simple ceramic "Project Du Jour" each Saturday. From the 1:00-2:00 hour, Lyn will be available to help guide children and parents through making the project.  Projects are generally $5 each, including glazing and firing.  As these projects are ceramic, they will need to be fired and then glazed, and fired again.  Each session a new project will be offered, but we will also have a glazing station for folks returning from the previous week or weeks.  No registration is required, just come on in!
 Here is what we have planned for April and May
April 1st: Dairy Barn Fest!
For this Open Studio, we have special free crafts from 1:00-3:00.
Children with their parents can come and make some ribbon wands, tissue paper flowers, and window sun catchers!
Folks returning to glaze previous projects can do so as well 1:00-3:00
April 8th: Pinch Pot Planters
1:00-2:00pm
We will make pinch pots and turn them into adorable animals with a little drainage hole.  We will under glaze them and they can be taken home the following week.  Plant a succulent or an herb right in them!
 $5 per planter
---
May 5th Garden Markers! –
Cancelled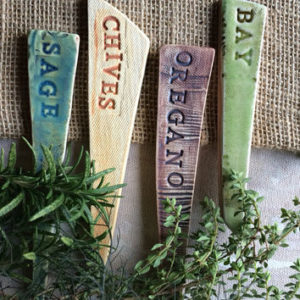 We will make slabs of clay and cut them to any shape we want, then use pasta letters to make super neat garden markers for our herbs and veggies at home!
$5 per 4 markers
1:00-2:00pm
May 12th: Pinch Pot Garden Gnomes!
–
Cancelled
They'll be a little less complicated than the picture, but our little gnomes will be super cute.  The perfect garden guardians!
$5 each, will need to return to glaze next month
1:00-2:00pm
Upcoming projects will also be announced on The Dairy Barn's Facebook Page.
2:00-5:00 General Open Studios
Children and adults can create their own unique ceramic projects.  This is not a class, only minimal guidance will be given by Lyn or whomever is acting studio monitor.
Each 1/2 lb ball of clay costs 5 dollars.  (Price includes firing and glazing). Participants can pay upon receiving clay.  Each week, all pieces will be fired.  Participants can return the following week to glaze their pieces, which will be fired again the following week.  All Saturday Open Studios work will be fired to cone 04.  Pre-paid "Cash Cow Punch Cards" worth $50.oo can be purchased and a punch can be made for each $5.00 purchase of clay.
Pottery Wheels/General Studio Access for Adults
People currently enrolled in a pottery class at the Barn, or members who have completed a simple certification checklist can use the studio and wheels from 12:00-5:00 each Saturday, with the exception of Holidays or other special occasions.  A regular calendar will be posted of the Dairy Barn's Facebook Page.  Other times to use the studio and pottery wheels are also available.  For all information about using the pottery studio at the Barn CLICK HERE.