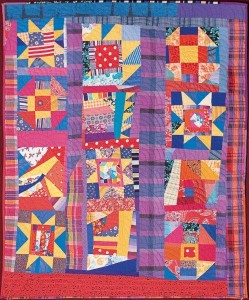 Deep in the Heart of Texas by Rosalie Dace
The Dairy Barn Arts Center and the Nelsonville Quilt Company Present
Quilt Jazz
A 6 hour hands‐on workshop presented by
Rosalie Dace, 2015 Quilt National '15 Juror
Quilt Jazz Workshop Description
SATURDAY, September 27 OR
SUNDAY, September 28
10 am – 4 pm
at Nelsonville Quilt Company
52 W. Washington St., Nelsonville, OH 45764
There are striking and exciting similaries between jazz and improvisaional quilt making. Discover what they are and how to put them to use in making your contemporary quilts. So if freedom and fun are what you need in your quilt making, this is the class for you. Learn to free yourself of all those tight restrictions that threaten to choke your creativity while you create a colorful and exuberant piece, without losing the essence of a quilt.
After studying pictures and other examples, you will be guided in a sensitive, step‐by‐step process to help you breathe new life into your blocks, and put them together to make a stunning quilt top.
Discussions will emphasize color, pattern‐making, repetition and rhythm. Techniques will include free‐hand cutting and machine piecing to make pieces fit. Your quilt making will never be the same again!
CLASS SIZE IS LIMITED CLASS FEE: $110 FEE INCLUDES LUNCH
FOR REGISTRATION INFORMATION
CONTACT KATHLEEN DAWSON
QN@DAIRYBARN.ORG OR (740)592-4981
To pay for your registration online, Click Here
About Rosalie Dace
I am an artist who is passionate about design, color, pattern and texture. My medium is quiltmaking and I love looking at, feeling and working with fabric and other textiles. With a background in art and education, I teach classes in contemporary quiltmaking.
My inspiration comes directly from the world around me and my life. I want to help my students feel excited by what they are able to do, and to develop a belief in their own abilities.
Living in Durban, South Africa gives me an exciting and colorful view of the world which I hope to share with anyone seeing my work or coming to my classes.
My classes are for class participants to have fun while they are learning, and to go beyond where they thought possible. In a non-threatening and respectful environment, I guide students to work in the direction of their own interest so that each person produces individual work within the general theme of the class. For this reason I do not usually provide patterns or kits. All classes however are supported by extensive visual material such as slides, pictures, books and actual examples of techniques and possible interpretation. As an art educator, I encourage students to develop a thorough knowledge of the elements of design and learn to apply these to the medium of quilt making with confidence.
In general classes are designed for intermediate and advanced students unless otherwise specified.
They are also designed for 2, 3 or 5 days and I am flexible about this and prepared to adjust the length to accommodate organizers' schedules.