Private: #B276 Reverse Tye-Dye with Bleach
July 18, 2020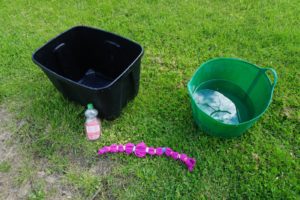 On-Site Outside
Instructor Kelly Shaw
1:00-3:00 (Folks may finish sooner)
Tye Dye was never so clean!  Let's get down and sanitary with this fun project for the whole family.  We will use watered down bleach solution to create cool patterns on black fabrics.  This outdoor activity will be socially distanced and groups up to 6 who arrive together can share space and materials.  We can have up to 10 groups.  Even though we will be socially distanced, this is a great opportunity to socialize with friends and neighbors!
Participants will need to Bring:
T-shirts or other garments to dye
Preferably 100% cotton

A dark color (black and navy work particularly well)

Pair of dishwashing gloves

Their COVID-19 face covering

Folding chair (optional)

Blanket to sit on (optional)

Water to drink! 
Dairy Barn Provides
The applicator of bleach solution

Rubber Bands (15 per participant)
Application / Rinse bucket
Plastic bag to take garment home in
Small rocks
Scissors
drying lines!