On view in our Sauber Gallery January 13 – March 19, 2023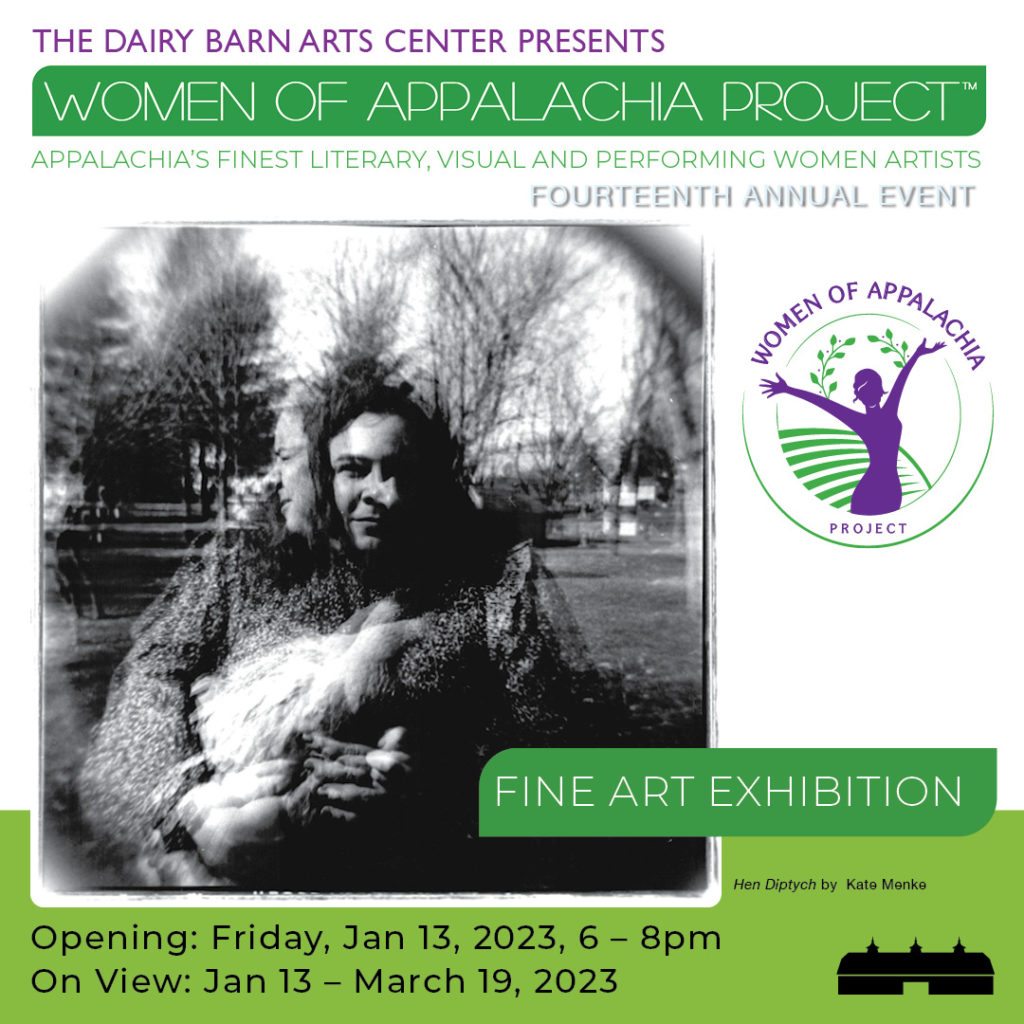 We believe all women are capable, courageous, creative, and inspired. 
The Women of Appalachia Project was created to address discrimination directed at women from the Appalachian region by encouraging participation from women artists of diverse backgrounds, ages, and experiences to come together, to embrace the stereotype, to show the whole woman; beyond the superficial factors that people use to judge her. 
Jury:
Miyuki Akai Cook: Artist and Associate Professor of Fibers at Marshall University
Alison Helm: Artist, Professor of Art, and Coordinator of Sculpture at West Virginia University College of Creative Arts
Margaret Curtis: Feminist Painter, taught painting at The School of Visual Arts in New York, served on the board of both The Flood Gallery in Asheville, NC, and The Upstairs Gallery in Tryon, NC.
Exhibiting Artists
Jolene Powell Marietta, OH
Chanda Weigel Freedom, PA
Frauke Palmer Columbus, OH
MetaVan Nostran Athens, OH
Denise L. Roberts Albright, WV
Jennifer Brown Reynoldsburg, OH
Debra Shaw Coshocton, OH
Karen Eve Bayne Hendersonville, NC
Lindsey Martin Athens, OH
Mallory Stowe Madison, WI
Mikelle Hickman-Romine Columbus, OH
Sarah Heink Athens, OH
Lacy Golden Davis Athens, OH
Susan Feller Augusta, WV
Beth Nash Marietta, OH
Rachel Linnemann Cincinnati, OH
MarleneL'Abbe Athens, OH
Suzan Ann Morgan Buckhannon, WV
Crystal Brown Buckhannon, WV
Margaret Black Boswell, PA
Nichole Schappert Knoxville, TN
Clair Farris Columbus, OH
Abby McCain Coolville, OH
Elizabeth Wells Pittsburgh, PA
Tristen Luken Athens, OH
Emily Boggs Jackson, OH
Carrie Summerford Athens, OH
Nancy Hershberger Breezewood, PA
Katherine Menke Dublin, OH
Haila Buskirk Mineral Wells, WV
Jane Ogren Pittsburgh, PA
Samantha Taylor Charleston, WV
Christina Ullman Graysville, OH
Ahneka Campbell Bainbridge, OH
Patty Kennedy-Zafred Murrysville, PA
Elizabeth Wells Pittsburgh, PA
Jailei Maas Athens, OH
Artwork Powerpoint