On many Thursday nights from 5:00-8:00, the Harriet Jacoby Anderson Fiber Arts Studio is

free and open to the public

.   Our purpose is to…
Each Fiber Thursday Open Studio will feature an artist in the studio who will either demonstrate a skill, or be available to help individuals with projects of their own.  It's the perfect opportunity to bring your fiber project and "ask an artist".  Don't need help but want to sit in the company of great people and use the studio equipment to work on your own projects?  That's fine too!  These are open studios, free to the public, not classes.
This is a great opportunity for groups of people who want to collaborate on projects, or work together to make items for charity, like crochet hats for the homeless!  Come be a part of our community and make something with fiber this week!
Artist Access Studios
On the 2nd Thursday of the month, for a $10 fee ($8 for members), you can participate in a Skill Building Workshop.  These will introduce a technique with demonstrations and a project will be finished in class or started, with participants armed with knowledge to finish at home or at our next Fiber Thursday Open Studio Night!
Click here for scheduled 2-hour Skill Building Workshops.
Each week, artists will be in the studio working on fun and interesting projects such as Yarn Arts, Needle Arts, Sewing Arts, Up-cycling, and the Art of Quilting.
Note:  Some Thursdays will have a set project, some will not.  If there is a specific project, it will be on our Facebook page.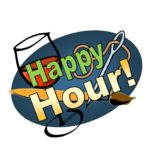 Some of our monthly Third Thursday Happy Hour Workshops will be in the Fiber Arts Studio.  These will be marked with the "Happy Hour" icon and have a participation fee
Click HERE to learn more about our Happy hour Workshops.
Planned Open Studio Thursdays: