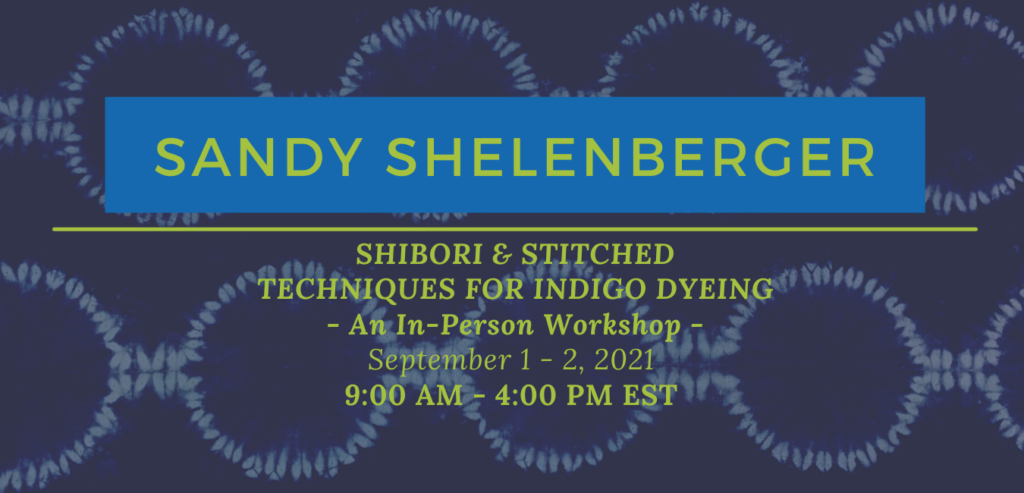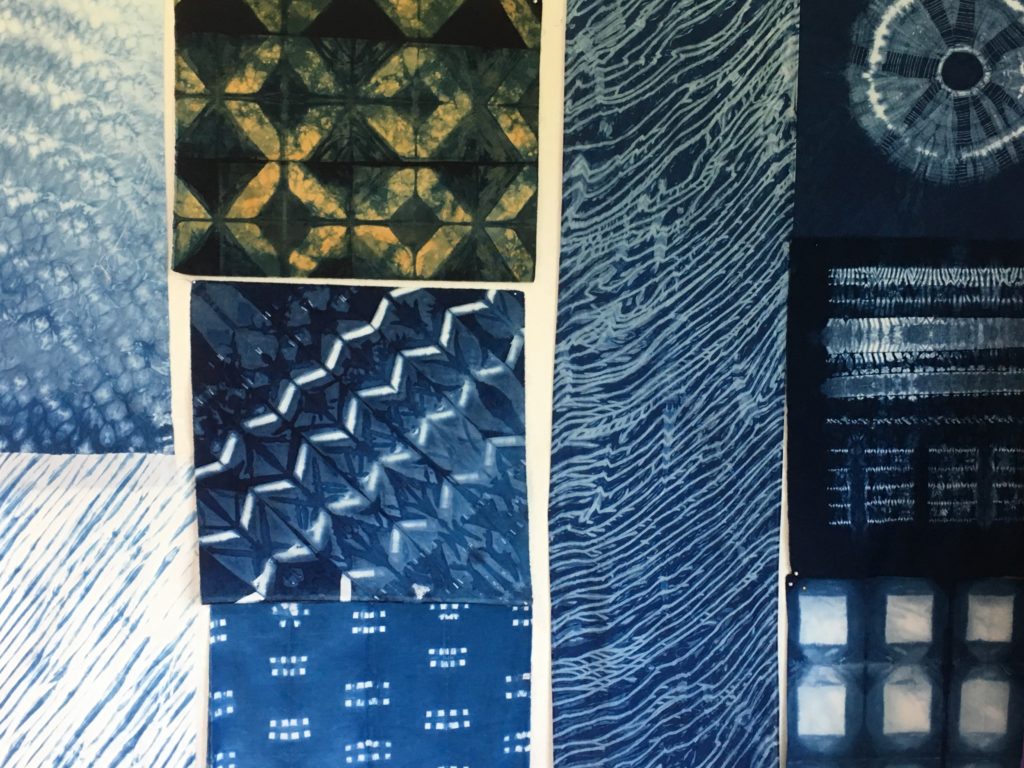 Shibori is an ancient technique used to create patterning on cloth. Participants will learn how to create these patterns on fabric and scarves, which will then be dyed in an Indigo vat, creating the traditional, magical, blue coloring. Shibori is a Japanese word used to describe a variety of manual resist techniques such as binding, twisting, stitching or clamping that create a variety of patterns. Techniques covered in this workshop are Arashi Shibori, a wrapping technique using a cylinder or rope and Itijime Shibori, utilizing clamping and binding. Beautiful patterns can also be made by using a simple running stitch or overcast stitch. These stitches can then be sewn in rows or fill in shapes to make unique patterning of their own. Learn the traditional methods of Shibori, then make it your own in this hands-on class!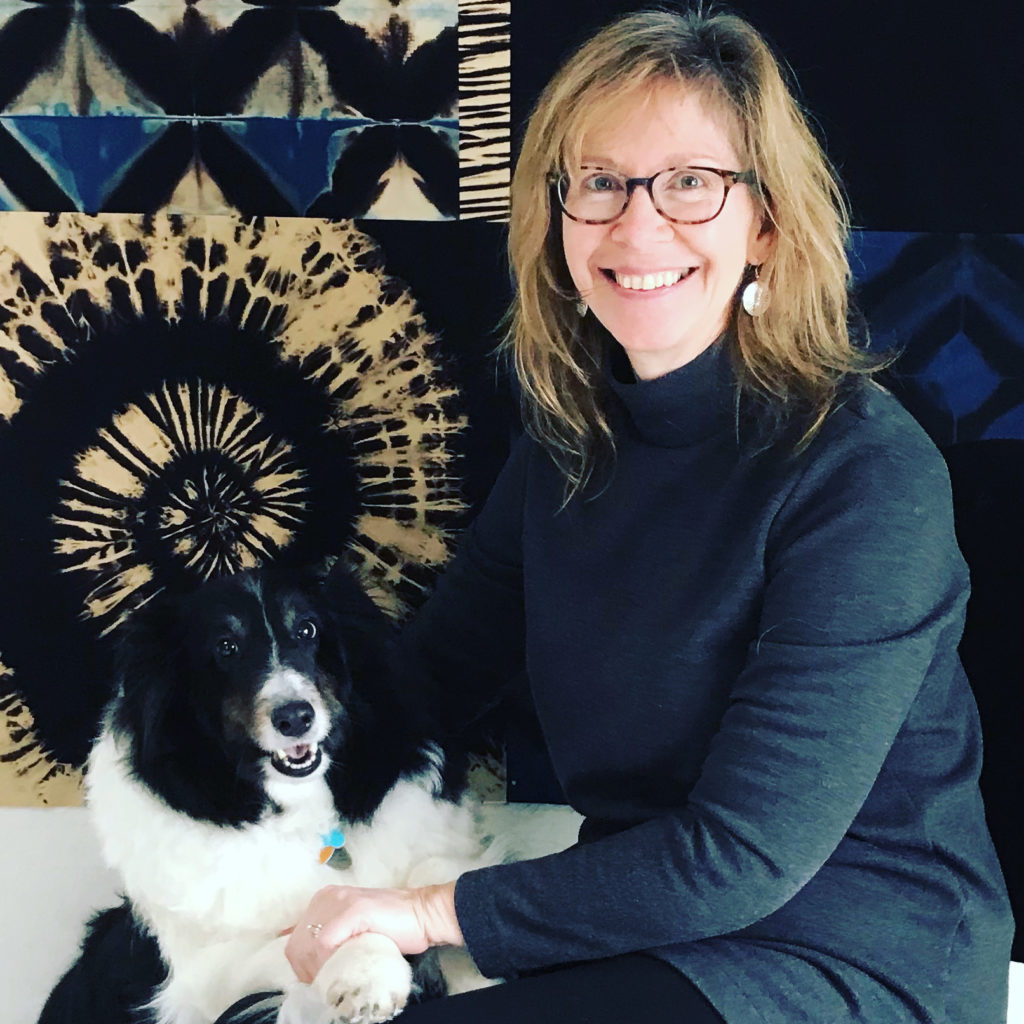 Sandy Shelenberger Bio:
Sandy Shelenberger is an artist from Conneaut, OH whose textile art has been widely exhibited. Sandy's love of sewing and designing her own creations came together when she took a quilting class in 1984. She began to see quilting as an art form and as a means of self-expression. She hand-dyes much of her fabric and uses surface design techniques such as batik or experimental screenprinting to create her own marks and patterns. In addition to quilting, Sandy has become enamored with working in encaustic and cold wax.
Her work has been in several publications and juried art exhibits. Sandy has had work juried into Quilts=Art=Quilts in Auburn, NY in 2019. Sandy's quilt A Touch of Envy was juried into Visions 2018: Connections and was on exhibit at Visions Art Museum in San Diego, CA. Sandy had work on display in Quilts + Resist: Art, Politic, Storytelling at Woman Made Gallery in Chicago, IL. Sandy has been in several "Best of Ohio" exhibitions at Ohio Craft Museum in Columbus, OH. She received the Award for Excellence at the "Best of Ohio" in 2014. She has participated in the Invitational Exhibition "from Woman" yearly at Lakeland Community College. Sandy has had two recent solo exhibitions: Solon Center for the Arts in 2018, and Ashtabula Arts Center in 2017. Sandy's artwork was juried in to Focus: Fiber 2016 at Kent State University Museum, Kent, OH; and Transgressing Traditions: International Juried Exhibit by Surface Design Association at Schweinfurth Arts Center in Auburn, NY. She also had work exhibited in the prestigious Fiberarts International in Pittsburgh, PA in 2013. Sandy's quilt received a Juror's Award of Merit in Quilt National 2005 in Athens, OH.
Sandy worked as a Registered Nurse for 33 years and raised two sons. She also supports rescue dogs. Sandy left nursing to pursue her art career. She currently teaches dyeing, Shibori and surface design techniques on fabric. She teaches at her studio, at Praxis Fiber Workshop in Cleveland, OH, as well as traveling to teach. She has hosted retreats that explore using encaustic and multimedia techniques. She is a member of Textile Art Alliance, Cleveland Museum of Art, Surface Design Association, Art Quilt Network and the Northeast Pennsylvania Artist Association. She enjoys sharing her knowledge and passion for the creative process.