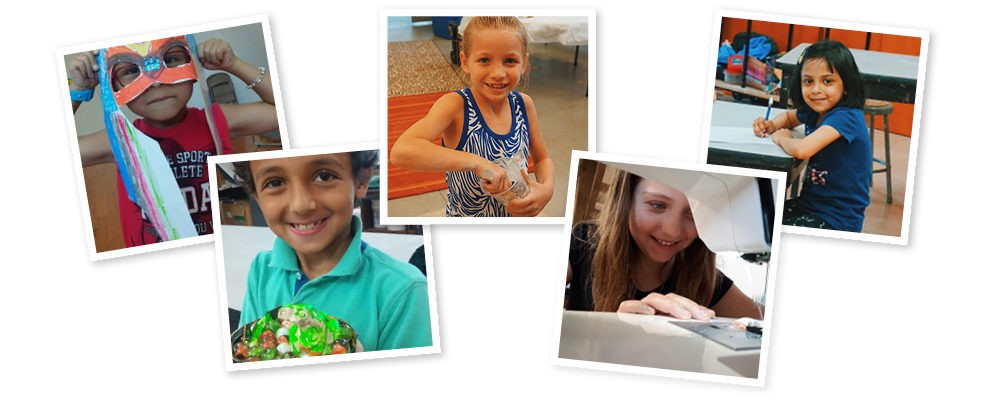 Summer Art Camp 2022
COVID-19 Procedures | Parent Handbook | (Registration Coming Soon)
About Summer Art Camp
Summer Art Camp at the Dairy Barn is simply a jewel of Athens. Designed for children in first grade through sixth grade, campers are exposed to a whole world of art, art history, art appreciation, and art making. It is a part of the mission of Art Camp to not only open the door for children to do art making, but also to open the door to an appreciation of the arts in general. Within each theme, campers learn a multitude of academic disciplines in a STEAM approach to learning. Campers learn about science, history, world culture, literature, and much more. Art Camp is child-centered and focused on instilling a love of learning for learning's sake.
Camp Community
Campers learn to work together to make their camp what they want it to be. Older campers show younger campers the ropes and help create a community of respect among themselves as well as with teachers and other adults. Campers learn to take leadership roles. They become ambassadors of the arts, of The Dairy Barn, and of the Athens community. Campers are proud of their accomplishments at camp. Because campers come from different schools, they can meet new children and break down social barriers or labels they experience during the year. Art campers build deep connections with one another and create friendships that endure for years.
Childhood Magic
Teachers go above and beyond every year to create incredible experiences for campers. Over the years, camp has seen many a wizard's laboratory, special guest lectures with exotic snakes and alpaca wool, and more. Parents of campers know that their children are receiving a wonderful experience from dedicated local artists and teachers, and the teachers always keep in mind each week that they are forging life long memories for the children and nothing is done without planning, care and dedication on the part of all involved.
Teen Camp
Teen camp started in 2010 as an additional way to serve the youth of Athens. Each summer, we take a week to focus on our teens. Teen camp is for students in 8th-12th grade and runs one week in the summer. Students who come to teen camp are exceptionally driven in the arts. Only two teachers work with very small groups of students through the week and guide students through making truly intensive projects from complex ceramic pieces, to advanced painting, high crafts and more! Teen camp is a very special week because students are asked to be on a maturity level above and beyond their age, and they always rise to the occasion.
Scholarships
Scholarships are available for children who would like to participate in Summer Art Camp but require financial assistance.
Request a Scholarship | Donate a Scholarship