When: June 5-9
Instructors: Mary Roediger and Lyn Stanton
For Teens going into 8th-12th grade
Cost: $162.00 Member/$180.00 Non-Member
Monday – Friday, 10:00am -4:00pm
"Wattle and Daub is a composite building material used for making walls, in which a woven lattice of wooden strips called wattle is daubed with a sticky material usually made of some combination of wet soil, clay, sand, animal dung and straw. Wattle and daub has been used for at least 6,000 years and is still an important construction material in many parts of the world. Many historic buildings include wattle and daub construction, and the technique is becoming popular again in more developed areas as a low-impact sustainable building technique." -Wikipedia
Why the goofy title?  Well, this week we will focus on fibers and clay. The two mediums and their related concepts will weave together to create an amazing week of learning and creation.  At teen camp, we take a different tact than at our camps for younger children.  Teen Camp is for students who are interested in the arts and highly motivated to learn and to create.  This week is all about expression, skill building and the artistic process.  Students will see examples of many different types of art and learn about how artists reflect society and utilize new technologies as well as ancient techniques.  This week is an immersive art experience.
Teen Camp 2017 will focus on the three new studios at The Barn (Ceramics, Fiber Arts and Digital).  Students will complete a fiber arts project, a ceramics project, and an installation that they will document digitally.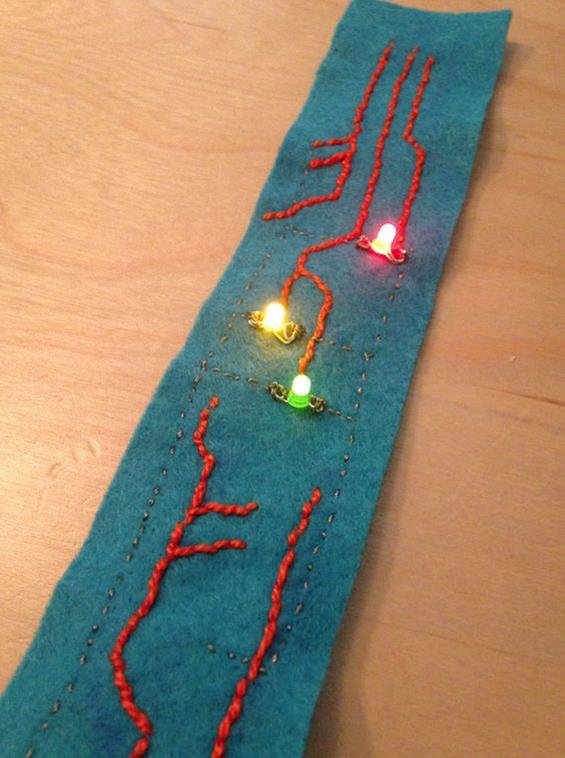 Fiber: Mary Roediger will help break in the brand new Fiber Arts Studio with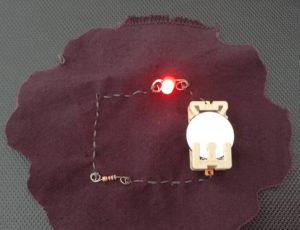 a series of projects.  Students will employ science and art when they use special conductivity thread and LED bulbs to create unique wearable pieces that light up! Students will learn about circuits, electricity, and contemporary innovations in art and fashion through this unique electronic embellishment project.  The LEDs can be added to a pre-existing piece of clothing, or made into a headband, bracelet, or anything!  The possibilities are endless.  While in Mary's class, students will also be exposed to several fiber art mediums and techniques for creating embellishments that they can choose to apply to their projects.
Ceramics: Lyn Stanton will guide students through a clay project where
students can choose a few between a few different projects, all will combine fired clay with a woven fiber element.  Students could make a clay basket and add fiber handles for a functional item, create small pieces to weave together into something wearable, or go abstract.  Students will reflect on the different mediums and create a mixed media project where concept is the focus.  provided there is time, Students may have an opportunity to try throwing on the pottery wheel.  Thrown pieces may or may not actually get fired in the kiln.
Installation:  For part of each day, all the students will share a space and create their own elements of a what will be a group installation.  We have a bunch of very cool antique window screens that were donated from a local historical building.  Each student will select a screen they like, then add embellishments to it while reflecting on the idea of exploration.  Students will have access to a wide range of art making materials and can really experiment with ideas and process. Students will be given some criteria to meet.  Each screen must :
~Reflect on the idea of exploration
~Use at least three mediums
~Be constructed of materials that will allow it to survive out doors for at least one week for installation display a the Dairy Barn.
At the end of the week, we will put the screens Outside, around the Barn.  Perhaps hung in a tree, or placed in the yard.  The Dairy Barn will invite the community to come and see the installation pieces at the Barn over the next week.
Students will use the Dairy Barn's digital cameras to record their progress and we will put the images on the Barn's Face Book page.
Teen Camp is a very Special week at the Dairy Barn.  Students have the opportunity to really explore their own creative process and be exposed to a wide variety of mediums and ideas.  We hope to see you'r teen at camp this year!
To register your student, fill out the online registration form below and click Submit.  Then, click the Big Friendly Yellow Button to pay in the online gallery shop.  Sponsorships may be available to reduce the cost of camp.  To learn more, email Lyn Stanton lyn@dairybarn.org.