When: July 30-Aug 3
Instructors: Katie Schwendeman and Lyn Stanton
For Teens going into 8th-12th grade
Cost: $180.00 Member/$200.00 Non-Member
Monday – Friday, 10:00am -4:00pm
This years Teen Camp is all about the whimsical and the imaginative.  Students will create a series of projects over the week in various mediums.  Each project will be united under the over arching theme of Imagination.  Students will complete a fiber arts project, a ceramics project, and mixed media sculpture.  Students will have the opportunity to photograph their works in our new digital studio for portfolio quality images.
Fiber Arts: Local Artist and Dairy Barn Teacher Katie Schwendeman will take students into the fiber arts studio where they will use the sewing machines to learn basic sewing.  For their project, Students will draw inspiration from soft Sculpture artists like Claes Oldenburg to create plush food stuffs!  They could be decorative, or functional pillow like objects, the details will be up to each student.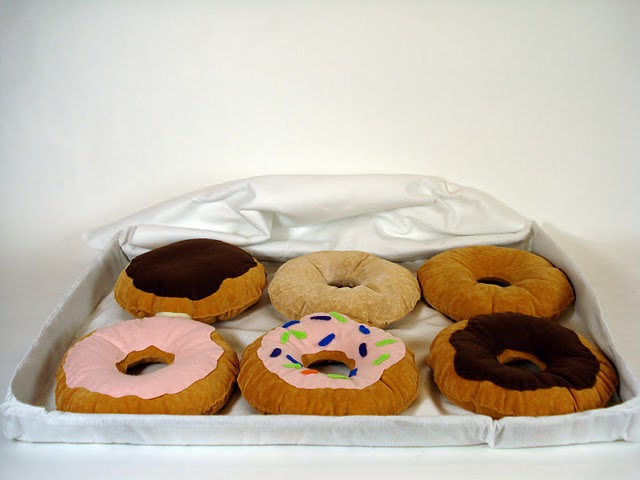 Whatever the specifics, one thing is for sure, they will be super fun and adorable!
Ceramics:  Students will work on their handbuilding and sculpture skills as they make little coil pot "creatures".  These fun little faces will focus on how to sculpt facial expressions and how to distort the rules of proportions to create intentional and stylized effects.  Because there is only one week to get through a whole ceramics project, depending on how fast students work, we may have to glaze on the last day and then pick their finished pieces up the following week.  Lyn can either photograph the pieces for the students, or they can schedule time to come to the Barn and learn how to photograph their own work.  Additionally in ceramics, depending on time constraints, Students may have an opportunity to try throwing on the pottery wheel.  Thrown pieces may or may not actually get fired in the kiln.
Mixed Media Sculptures:
Lyn And Katie will work together to guide students through an advanced course in paper mache.  Paper mache is a sometimes overlooked sculptural medium, but it is incredibly versatile and students will use found objects and newspaper to create scaffolds for their their pieces.  Drawing on inspiration from Mexican Folk Artist
Pedro Linares Students will make large paper mache Alebrijes!  These whimsical imaginary creatures are beautiful and fun and they will be an amazing and exciting project for the students!
Students will use the Dairy Barn's digital cameras to record their progress and we will put the images on the Barn's Face Book page.
A note from Lyn: Teen Camp is a very special week at the Dairy Barn, and one that I look forward to all year.  This year in particular I am incredibly excited about the projects and the fact that the kids will get to learn sewing in the new fiber arts studio.  Teen camp is unique because we (the other teacher and I) will talk to and treat students like the young adults they are.  They will have many more freedoms than they did at Summer Art Camp, and much greater responsibilities.  It really is a week where students can explore their own ideas and work through the art making process using critical thinking skills.  Students have the opportunity to really explore their own creative process and be exposed to a wide variety of mediums and ideas as artists and as creators.  We hope to see your teen at camp this year!
To register your student, fill out the online registration form below and click Submit.  Then, click the Big Friendly Yellow Button to pay in the online gallery shop.  Sponsorships may be available to reduce the cost of camp.  To learn more, email Lyn Stanton lyn@dairybarn.org.