8000 Dairy Lane
Athens, OH 45701
(740)592-4981
This Fall, The Dairy Barn Arts Center is full of opportunities to explore clay and the ceramic arts. The Dairy Barn's newly renovated and expanded facility features a fully-equipped ceramic studio used for classes, workshops and by our community of Member Artists.  The Sauber Gallery is currently showing the exhibition Contemporary Ceramics 2017, curated by Brad Schwieger and featuring the artwork of 30 nationally renowned ceramic artists.  The Dairy Barn Gift Shop has pottery and other ceramic artwork made by regional artists.  Come see all of this, plus…
Raku Demonstrations by James Robinson!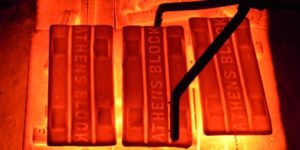 James Robinson, local ceramic artist and owner of Athens Block, LLC. will have his raku kiln set up outside for visitors to see this exciting and dynamic firing technique.  James will be demonstrating the way a propane raku kiln is built and used to glaze fire white raku bisque-ware using the process of reduction. This process allows James to achieve high luster and metallic finishes.  His finished work is featured in The Dairy Barn Gift Shop.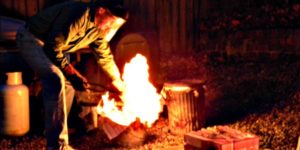 "It's is a fun, fiery experience!" -James Robinson
Wheel Throwing Demonstrations!
Visit the Ceramic Studio upstairs where Kelly Shaw, Ceramic Studio Manager, will be throwing clay vessels using a potter's wheel.  Get information about classes, youth/adult workshops, and Member Artist opportunities available at The Dairy Barn throughout the year.
Decorate a Mini-Brick!
Take part in our Fall Collaborative Clay Project.  Using a technique called sgraffito, you can carve and decorate a specially prepared clay brick.  Finished bricks will be displayed, in the future, on the Dairy Barn grounds.
Directions:
The Dairy Barn Arts Center is located on Dairy Lane, just across the Hocking River from Ohio University and Uptown Athens.  From Athens, head South on Richland Ave.  Make the first right-hand turn after the round-about, just before the OU Inn, onto Dairy Lane. Continue on Dairy Lane for 1/2 mile The Dairy Barn is located on the left.
Pull around behind the building for parking.