Catalog #Q00
Title: Contemporary Art Quilt and Textile Challenge
Theme: To Tell the Story One Must Remember
With Artist: Danette Pratt
Cost: Early Bird:  $500 Members / $550 Non-Members
After April 1st: $550 Members / $600 Non-Members Lab Fee $25
Dates: May 12-17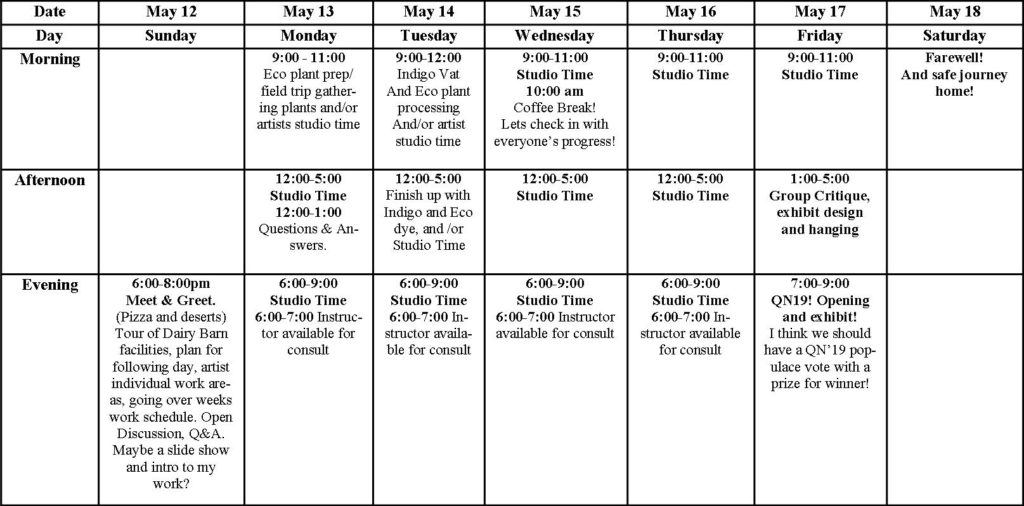 Welcome:

The Dairy Barn is excited to offer a contemporary art quilt challenge to its many Quilt National entrants and any artist that desires to create an art quilt that utilizes the challenge title. This is the Dairy Barns' first art quilt challenge and hopes that it provides a unique individualistic and artistic venue for textile artists. Past QN entrants are encouraged to apply to this Dairy Barn exclusive studio driven, textile art challenge!

Overview:
On enrollment into DB'19 Art Quilt Challenge, the artist will be responsible for:
A completed piece of textile art that will be exhibited during dates specified. The work will conform to the requirements listed and will be exhibited concurrent with the Dairy Barn QN'19 opening weekend and exhibit. The artists' work will be viewable on an online webpage during the duration of QN'19
Huipil pattern and canvas requirement & measurements: downloadable pdf.

huipil – A loose brocaded blouse worn by Mayan women in Mexico and Central America. (Pronounced – we peel (wē-pēl′). This shirt pattern and construction is representative of early human shirt patterning for both men and women's' shirts and tunics. The construction/variations of this garment expands, cross-culturally, from the stone, iron, and bronze ages – though present day. Fabrics most used in construction are wool, linen, cotton, other plant based fabrics and silk).

The impetus of using a huipil as a base is to allow the artists to center around the theme of memories
During the week, participating artists will be able to participate in the following processes with guidance from the Instructor and apply the results to their work.

Indigo vat dyeing
Eco plant dyeing
Hand embroidery and sewing machine free motion embroidery
Stencil, painted fabric techniques
Transfers (photo) and alternative photo processes
Embellishing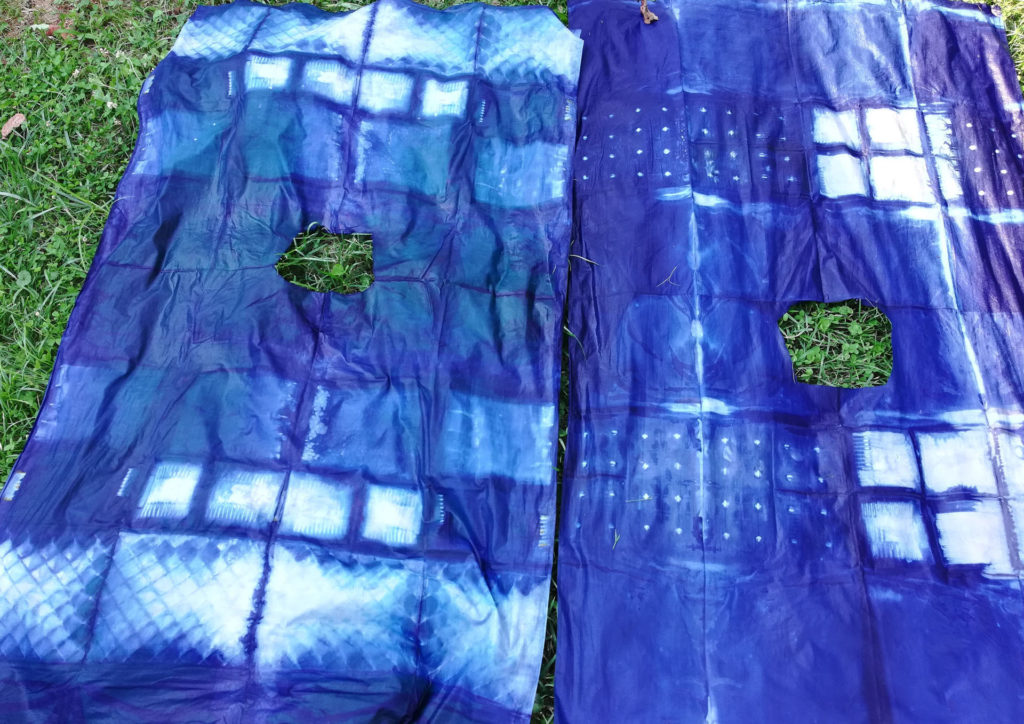 Objectives:
Reflect on the challenge title to create a piece that meets the challenge criteria and interprets and embodies the concepts of the title.

During this challenge, participating Artists will:

Develop a concept for their work using the huipil pattern as a base.
Follow a process to complete their work beginning before the challenge week begins and completing by the challenge end.
Have the opportunity to participate in a variety of fabric altering process to incorporate into her or his work

Produce a completed art quilt that will be exhibited in one of The Dairy Barn's additional gallery/display spaces during the opening of The Dairy Barns' Quilt National '19, in May 2019.

Assist in photographing their finished work for digital display.

Be able to download images for their own use onto a flash drive.

Install work in the Dairy Barn for display concurrent with Quilt National '19.

(Artist's finished work will) be subject to a Quilt National 2019 populace vote held during the opening weekend of QN'19; a prize will be granted to the artist with the most votes.
Requirements:
Artists should be skilled in various fabric/textile processes.

Although no

'official instruction'

is going to be included with this challenge the instructor does have knowledge of processes listed above and will consult with individuals, as well as group work, as it all relates to their finished work and exhibit installation.

Artist must develop concept for work and complete preliminary preparations before the challenge week begins; Artists will be able to work at their home studios researching and preparing their art quilt before finalizing their work during the 5-day Dairy Barn challenge studio.

Artists will be required to do pre-research for design and materials needed to complete their challenge artwork.

The Participating Artist must agree to having their finished piece photographed for digital display as well as physically displayed at the Dairy Barn



Artist will give permission(s) to the Dairy Barn (administrators, instructors and photographers) to use photos taken during artist challenge week and artist challenge exhibit for use in future publications about workshops and classes, either printed or online.

Pre- Research Requirement for Challenge!
Artists are asked to think about special relationships, ancestry connections, place, objects, people, animals for their work – how to symbolize / simplify into iconic images and applied to the finished challenge art work.

Artists are to bring their pre-planed sketches and design, along with any pre-made embellishments to the five-day studio challenge week at the Dairy Barn.

Artists are to bring prepared images, letters, book images and sketches for reference. These can include special places, homes, animals, and quotes from letters, news articles, family trees, and special dates/years/events.

The challenge week is

intended

for intensive studio use by the artist to utilize the various processes and bring their concept/ideas to full fruition, culminating in a completely finished piece by the end of the week.

Indigo and Eco plant dying will be offered early in the week for those who would like to use this process for completion of their work.

 

*NOTE: Participating Artists are welcome and encouraged to contact the Instructor before the challenge week to ask questions about resources and about their concepts and processes. (See about the instructor section below)

Contact Danette: attedragon@yahoo.com

Artist is responsible for all research and construction will include:

Artist sketch of work, required by instructor; the art quilt must be within measurement parameters given.

Artist is responsible for their fabric

canvas

and applied fabric/embellishments

Artist is responsible pre-stitched images, quilted blocks, appliqué work and or patches that are created and brought with artist for attachment to their challenge artwork.

Artist can bring assorted embellishment, fabric, embroidery thread, machine thread (color specific) and/or fabric paint (color specific) to be used in the final assemblage of their challenge artwork.
Artist will provide:
Title of their work.

An Artist Statement (70-150 words) about their challenge piece. (MSWord or GoogleDoc document file to instructor), due at the end of challenge week, before installation.

Artist will also provide a short, CV (70-150 words) about current shows/exhibits/publications.
Specifications
The canvas may not be less than 25 inches x 50 inches, vertical or horizontal

Canvas maximum size 36 inches x 59 inches; Artist may size/scale to your personal measurements if going to show as a wearable shirt.

To be a quilt, there has to be two surfaces that are tacked or stitched together overall

Artist's work must have a fabric backing with a hanging sleeve to receive a 1.5-inch wooden lath the length of the top of your work for hanging.

Canvas can be shown either vertical or horizontal; or may be hung as a 'wearable shirt'.

The head opening (

see pattern

) has to be indicated somewhere on the canvas; it is cut out to be worn as a garment or placed (artist choice) somewhere on the canvas; neck opening can be cut out or indicated as a shape.

Artist choice of canvas/fabric, materials and embellishment, paint, drawing material, etc.

No compostable organic materials. Dry materials only.

No powder/flakes that will fall/detach from surface.

Edges can be finished or unfinished

The finished work will be fabric backed and have a sewn pocket at the top that will allow the piece to be hung.
About the Instructor:

Contact Danette: attedragon@yahoo.com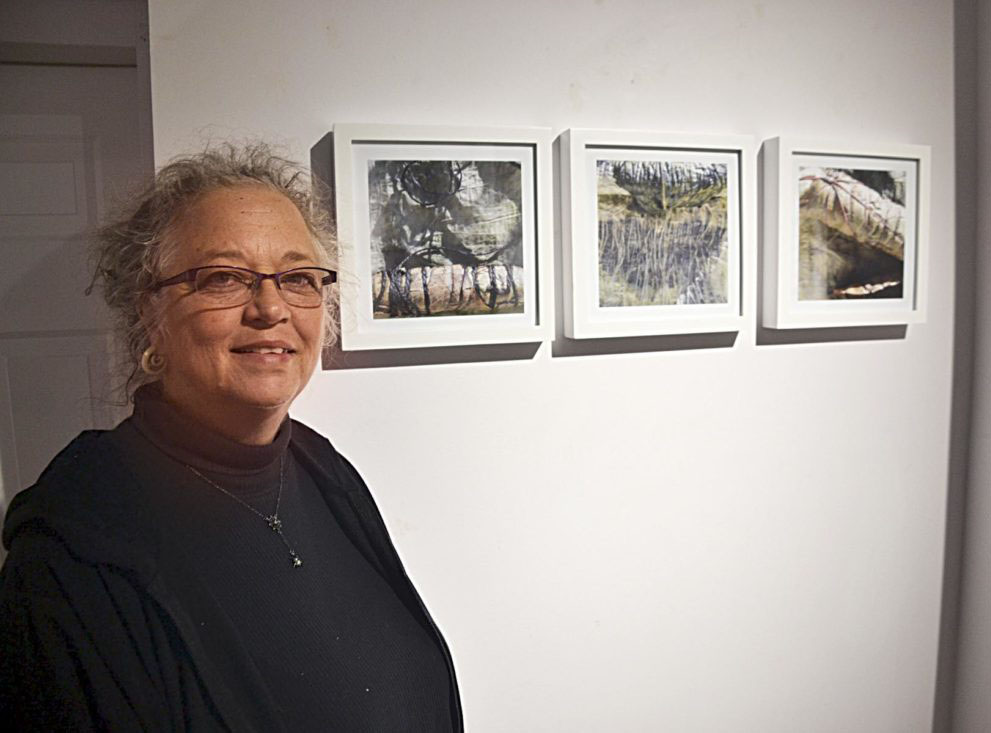 Danette Pratt, BA, MFA painting and drawing. Danette Pratt is a retired biological illustrator (Ohio University College of Osteopathic Medicine, Athens OH), fiber art and fine artist, workshop instructor and creator/designer of SeriouslySickSockstm art dolls. Danette is a QN'17 artist and has shown nationally, internationally and has artwork published in many scientific journals/books and art publications. She enjoys analog photography, sewing, weaving, spinning and fabric dying using Shibori techniques while using natural dyestuffs she gathers around her country home/studio. Danette lives in the rural hills of Southeastern Ohio with two fearsome (but loving) Yorkshire terriers that really think of themselves as very large dogs! To see more of Danette's work, please visit her websites, www.danettepratt.site and seriouslysicksocks.wordpress.com

About the Dairy Barn


The Dairy Barn Arts Center's mission is to offer exhibitions, events, and educational programs that nurture and promote area artists and artisans, develop art appreciation among all ages, provide the community access to fine arts and crafts from outside the region and draw attention and visitors to Southeast Ohio. The twelve-month program calendar includes international juried exhibitions, festivals, touring exhibits, programs of regional interest, live performances, and activities for all ages. Some events are produced entirely by The Dairy Barn Arts Center while others are the result of cooperation with regional education, arts, or community organizations. Exhibits such as OH+5: A Biennial Ohio Border Exhibition and Athens Voices, A Biennial Exhibition featuring artists that live or work within 30 miles of Athens and feature outstanding regionally produced artwork in a variety of media. The Dairy Barn Arts Center has also developed an international reputation for excellence with Quilt National, a biennial exhibition that has attracted more than 100,000 visitors to Athens from around the world since its premiere in 1979.

Learn more about The Dairy Barn

Learn more about Quilt National