We will have an Art Making Activity Every 3rd Thursday From 5:30 to 8:00 pm, and additional events as announced.
Cost: $25.00 per person (typically)
Advance registration is required. Payment can no longer be made at the event and must be paid ahead of time through our online gallery shop.
Some events require an online registration form, some only require advance payment online.  Please read registration instructions for each event carefully.
You can make sure or ask any questions by emailing lyn@dairybarn.org.
We are branching out in the types of art making activities we can offer you for our monthly Happy Hour Workshops. Starting in October, we will be adding "glaze your own pottery" events to our line ups.  We will also be showcasing our brand new Fiber Arts Studio and be hosting Happy Hours that are fiber focused.
Winter Weather NOTE:
If the Athens City Schools are closed due to inclement weather on a workshop day, the workshop will be cancelled for safety.  We don't want anyone driving on bad roads!  If a workshop you signed up for is cancelled, the Education Director will contact you about refunds or crediting your registration fee.
---

A Light In The Dark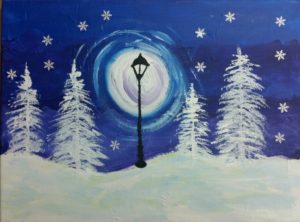 #B058
January 18th
The Holidays are over and the long winter nights are taking hold.  Let's let our imaginations create a light in the dark as we create these lovely lampposts in the snow.  Whether it makes you think of chilly night walks in the snow, or if you're like me and have been checking every attic you have ever been in for a magic wardrobe, these paintings are sure to light up your night  inspire you to shine!
Advanced payment required.  Registration Deadline: January 12th.
Click to submit payment.
(Online payment doubles as registration! You will be sent a confirmation email).
---

Become a new member at the family membership level or higher and attend one happy hour workshop free! 
You can join online today, it's easy!  Click Here! After joining, email Lyn lyn@dairybarn.org and she will issue you a card for one free Happy Hour Painting session.
*Participants must be 21 or older to purchase alcohol and persons under 18 must be accompanied by an adult.  The Dairy Barn Art Center has a liquor license which means that participants can not bring alcohol into the building.  All wine or other alcoholic beverages must be purchased from the Barn. Please reserve your space in advance to ensure we have enough materials and spaces.
Love our Happy Hours? Make it a Private Party!
Due to the popularity of these events, we are offering "Private Happy Hours".  You can schedule your groups own happy hour painting work shop!  It's the perfect event for a bridal group, graduation party, adult birthday parties and more.  The cost would still be $25.00 per person with a minimum of 12 people.  Fewer than 12 people can attend for a flat fee of $300.00!  To schedule your groups own Happy Hour Workshop, or for more information, contact Lyn Stanton lyn@dairybarn.org
 Wondering what kinds of awesome things we have done? Check out 

Past Happy Hour Paintings
Note: For painting events, we use acrylic paints which do stain clothing.  Please wear clothing that can get dirty, and stained, or wear a smock!