We will have an Art Making Activity Every 3rd Thursday From 5:30 to 8:00 pm, and additional events as announced.
Cost: $25.00 per person (typically)
Advance registration is required. Payment can no longer be made at the event and must be paid ahead of time through our online gallery shop.
Some events require an online registration form, some only require advance payment online.  Please read registration instructions for each event carefully.
You can make sure or ask any questions by emailing lyn@dairybarn.org.
We are branching out in the types of art making activities we can offer you for our monthly Happy Hour Workshops. Starting in October, we will be adding "glaze your own pottery" events to our line ups.  We will also be showcasing our brand new Fiber Arts Studio and be hosting Happy Hours that are fiber focused.
No Happy Hour workshop for October.
---

November 16th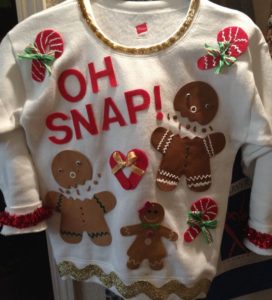 "Ugly Sweaters"
#B052
Own the winter holidays this year!  Be the object of envy at every holiday party.  Bring a sweater or vest and use our delightfully gaudy collection of truly tacky treasures to adorn your sweater with Holiday Cheer.  We will have iron-on printables, felt that can be cut into any shape you like and attached, ribbons, pom poms, puffy paints, and even some sew-able LED's!  This is the perfect workshop to do with some friends or co-workers before the slew of office parties and other holiday gatherings commence.  Join us and puffy paint and applique your way to ostentatiously hideous tacky glory!
Cost: $25.00
To sign up, just submit advance payment through our online gallery shop.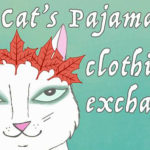 (We recommend you visit the Cats Pajamas Clothing Exchange at Arts West  November 2-4 to hunt for the perfect blank canvas for this workshop)
---

Become a new member at the family membership level or higher and attend one happy hour workshop free! 
You can join online today, it's easy!  Click Here! After joining, email Lyn lyn@dairybarn.org and she will issue you a card for one free Happy Hour Painting session.
*Participants must be 21 or older to purchase alcohol and persons under 18 must be accompanied by an adult.  The Dairy Barn Art Center has a liquor license which means that participants can not bring alcohol into the building.  All wine or other alcoholic beverages must be purchased from the Barn. Please reserve your space in advance to ensure we have enough materials and spaces.
Love our Happy Hours? Make it a Private Party!
Due to the popularity of these events, we are offering "Private Happy Hours".  You can schedule your groups own happy hour painting work shop!  It's the perfect event for a bridal group, graduation party, adult birthday parties and more.  The cost would still be $25.00 per person with a minimum of 12 people.  Fewer than 12 people can attend for a flat fee of $300.00!  To schedule your groups own Happy Hour Workshop, or for more information, contact Lyn Stanton lyn@dairybarn.org
Past Happy Hour Paintings
Note: For painting events, we use acrylic paints which do stain clothing.  Please wear clothing that can get dirty, and stained, or wear a smock!
September 21st
Have some wine, and feel good while you make beautiful dragonflies and reflect on how like the insect world's fastest flyers, this summer just zoomed by. Registration and payment will be available September 5th.
 August 17th 
"Hot Town, Summer In The City"
#B042
Start with a gorgeous sky full of color, maybe double up to make a mirror effect, then add simple geometric forms to create a city-scape all your own.  This simple idea can be as austere or as lavishly complex as you choose.  A very flexible subject and great for beginners!
Registration and payment will be available online on July 21st.
 July 20th
"Zen Mandalas"
#B041
Mix your favorite colors for a lovely background, and let your hands and mind wander in circles for this relaxing painting project.  A little wine makes for a very Zen evening!
Click Here to pay online and reserve your spot today!
---


#B035
Take a dive into your imagination as you create a beautiful underwater scene.  Perhaps in your sea swim some peaceful sea turtles, or maybe you have sharks looming in the shallows.  Who knows, maybe your underwater world is populated by mermaids!  Whimsical and so easy, this Happy Hour Art Project is sure to be a "deep" experience!
---
May 18th
"May Flowers"
This Happy Hour is FULL!
#B034
Celebrate the fact Spring is in full swing with these fun, larger than life flowers!
---
April 20th
Silhouettes of Life
It's Earth Week!  Celebrate the life on this planet with a beautiful silhouette!  Lyn will provide some stencils of animal shapes to help you out should you feel the need.  You'll start by making a beautiful sunrise or sunset sky and then add an animal silhouette.  Your backgrounds can be any color.  These are the perfect images to brighten up a space in your home.
#B033
---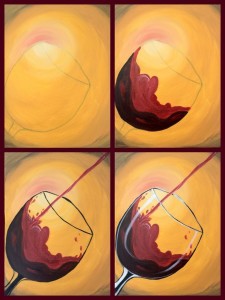 March 16th
"The March of Wines"
#B032  This event s full!
For this month's Happy Hour Painting Event, we will have a little more hands on approach with a step by step process to help participants get a result they won't want to whine about!
---
February 16th
"February is for Lovers"
-FULL!
#B031
We just missed Valentines Day, but love is still in the air.  Come put your love where your brush is and join us in making these adorable love bird paintings!
---
January 19th
"You Could be Swinging on a Winter Breeze" -FULL!
#B030
The weather outside may be frightful, but the Dairy Barn's Happy Hour is delightful!  In this session, we will get in touch with our whimsical side as we paint lovely colorful skies and trees with creative branches.  We will add swings upon which may swing whatever or whomever we desire!
---

December 15th
"Snow Man"
#B028
Get into the season with these festive and surprisingly easy snow man paintings.  Think about the colors you want as these will be the perfect seasonal decorations for your homes!
---
December 8th
"Cheersfully Painted"
Painting Wine Glasses and Making Wine Glass Charms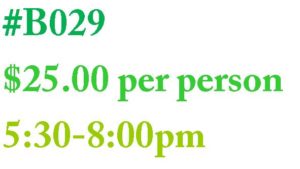 Using super cool glass paints, we will paint on wine glasses to add a personal touch to our holiday refreshments!  Each participant will receive two wine glasses to paint and be able to make accompanying wine charms (at least one per glass).  Extra glasses to paint can be purchased for an additional $5.oo each.  The glass paints will need to be heat treated in you oven at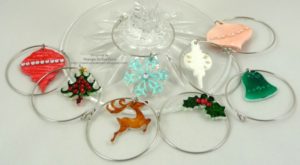 home for long lasting durability.  Don't worry, it's not hard and Lyn will give you instructions.  Once treated, they should last for years to come, (hand wash recommended).
* NOTE: This is an adult workshop and wine/spirits will be served.  Children are welcome at the discretion of their guardians.  Please be aware that as this is an adult activity, the Barn can not be responsible for the behavior or other participants regarding conversation subject matter.
---
"The Forrest for the Trees"
#B026
The leaves have fallen but the snow is yet to come.  The Forrest in November is a quiet, strange place.  It's residents have mostly retreated into burrows and the hum of insects has been retired.  In this Happy Hour Painting, Lyn will show how to use analogous colors to create depth for these chilly, cool color paintings.
---

 October 20th
"Le Chat Noir De Halloween"
#B024
This famous image is by the French Art Nouveau painter and print maker Théophile Alexandre Steinlen.  This enchanting image was a poster for a famous late 19th century Parisian bohemian district night club "Le Chat Noir" or, "The Black Cat".  The club was extremely popular in the artist community and is argued to be the first real cabaret!  In this Happy Hour Painting, we will adapt the image to advertise our own spooky season's greetings drawing on the print making style.
---

September 15th
"Seeds of Summer"
#B017
As the summer draws to a close, let's reflect on the natural world and the incredible cycle of life around us as we create beautiful and individual dandelion images.  We will begin by painting colorful backgrounds and then add dandelion puff balls blowing in the breeze.  Don't forget to make a wish!  What better way to wind down the summer?