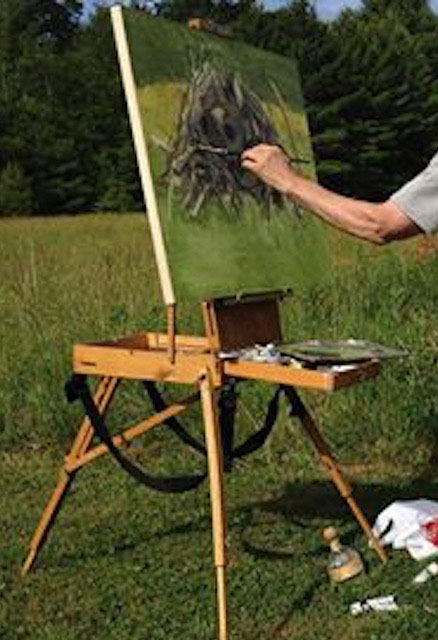 Instructor: Erica Magnus
Day: Fridays
Time: 12:30pm-3:00pm
8 Sessions starting September 18, 25, October 2, 9, 16, 23, 30, November 6
(Make up days will be the Tuesday following a missed class day)
"En Plein Air" means "in the open air" in French. Quite simply put, it is the act of painting from observation out of doors. With the Covid-19 global pandemic still impacting daily life, this painting class offers a low risk and enjoyable way to learn landscape painting using the traditional "Plein Air" method of directly observing nature. 
All skill levels are welcome.  Beginners, as well as more experienced students, can develop and expand their knowledge of painting fundamentals including color, composition, perspective, and scale as these relate to the unique requirements of painting outdoors.
In each class, every participant will have access to individual instruction as needed and/or requested.  Class instruction will include guidance on how to work with natural light as you build your chosen view on canvas with color.
Materials in Brief, so you can see what is involved
A set of oil paints (oil paints are preferred for Plein Air painting because they don't dry out quickly and can continue to be worked)
Oil Paint Brushes – brushes markets for both acrylic and oil are typically not the best. Oil paint requires a stiff bristle. – recommend one filbert, and one flat (bright) medium-sized
A rag, and terpenoid, or another low odor solvent for oil paints (No mineral spirits)
A palette
Canvasses, canvas boards, or canvas paper
A portable easel, or lightweight folding table
A folding chair if you would prefer to sit rather than stand.
About Covid-19. This class will be conducted outside. If a class is cancelled due to weather, a make up session will take place the following week. Even though the class is outside, masks are still required and social distancing must be practiced. Participants will stay relatively close toe the Barn during class and have access to the restrooms