Catalog #B039
Date: Thursday March 23rd
Time: 6:00-9:00 pm
Cost: $30 Members / $35 Non-members
Instructor:  Danette Pratt Athens Voices USA '17 and Quilt National '17 Artist
Overview:
In this workshop, participants will take part in meditative and activity wherein they will be asked to reflect on animals. Participants will then do a series of mark making activities using a variety of materials (provided) that will reflect their mindfulness exercise.
Wear loose clothes as you would for a yoga/mediation class.
Please feel free to bring a yoga/palates mat if you would like to do the mediation/breathing exercise laying down. Otherwise sitting in a chair is perfectly okay.
You can bring your own personal journal or sketch book for note taking.  (Additional materials will be provided as well)
Check out Artist Danette Pratt's website!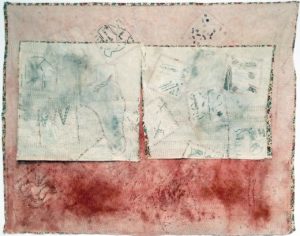 (Fabric, printers ink, embroidery floss, thread.)
Techniques used in work: quilting, embroidery, Kantha embroidery, mono print, weathered and dyed fabric, mono printed pig on fabric, embroidery and quilting stitches -stem, seed, running, Kantha, Bayeux tapestry and couched.
To register, first check to make sure there is room available! Call the Barn 740-592-4981 or email lyn@dairybarn.org.  You can then sign up online (below), or download and mail this Registration Form with check or a credit card number.  Don't forget the catalog number! #B039
Follow the link below this form to our online gallery shop to submit payment.After Completing the above registration form, Click the Big Yellow Button to pay in the online Gallery Shop