Our ceramics studio is newly renovated and has lots of space for you to work on your art!
Here's how it works:
The ceramics studio is available for artists to use the space and equipment.  To be eligible to use the studios, one must be a current member of the Dairy Barn at the $50 (Individual/Artist) level or higher.  Memberships are good for a whole year.  People who have not taken a pottery class at the Dairy Barn must complete an orientation to certify them for studio use. CLICK HEREto view the Ceramics Member Artist Orientation form so you'll know what to expect. This is a pretty straight forward checklist, and only takes about an hour.  This can be scheduled with Education Director Lyn Stanton or (lyn@dairybarn.org) or ceramics studio manager Kelly Shaw kelly@dairybarn.org in advance of studio use by the artist.  The function is to make sure member artists know how to use the equipment and understand safety rules and dairy barn policies.
Schedule:
The open studios schedule will be posted monthly on the website.  Click HERE. We will also link it from the Dairy Barn Facebook Page.  If you would like to come and use the studio on one of the week days, it is helpful to email Lyn (education director lyn@dairybarn.org) with a heads up, but not totally necessary.
Storage:
Members who use the ceramics studio can arrange with Lyn or Kelly to have a shelf space to keep their work and materials on.  For Artist's clay, tools, change of clothes and other supplies, we have lockers available for rent. Lockers are to rented to artist members for $25.00 for 6 months.  A payment of $25 is due at the end of the 6 month period to keep the locker space.  Members will be sent email reminders when their rental is about to expire.  Members may purchase locks for their lockers, but the Dairy Barn needs to have either a spare key or the combination to the locker.  To rent a locker, email lyn@dairybarn.org.  You can submit payment for your locker online CLICK HERE, or you can bring check or cash to the Barn to be processed by Kelly or Lyn.
Materials/Equipment:
Members are welcome to use the studio equipment including the wheels, the slab roller, and the extruder.  Only staff will fire the kiln, but members may chose to load their own work into kiln. Consumable materials such as clay (more than one pound, which can be purchased outright from the Barn) and glaze can be purchased by the member artist either locally, or through the Dairy Barn (see below).  For the reader's information, a great local place for ceramics supplies is the Nelsonville Emporium.  The Barn can order clay and glaze upon request.
Costs:
After the cost of yearly membership, there are no studio fees.  Artist need only pay for materials and firings.
Firing:
 Schedule: An "as needed" firing schedule will be arranged.  The Dairy Barn has two electric kilns.  Staff members are the only people who may actually fire the kiln, but firings can be requested.  A monthly PDF will include planned glaze days and kiln fires.  Shelves on the mobile cart nearest the kilns are designated as the "to be fired" shelves.
       Work Retrieval: Please claim finished pieces from the "fired" shelf within one week of firing.  They may be either returned to your work shelf or taken home.
The cost of firing and glaze is done by weight (see table below).  Fees are due upon loading of kiln for firing.
        Bisque/low fire: Unless an artist requests a different firing temperature, all bisque firings and low firings will be fired to cone 04.  The cost is $1.00 per pound.  Pieces should be weighed when bone dry.
       High Fire/Glaze Fire: Unless an artist requests a different firing temperature, all high/glaze firings will be fired to cone 5-6.  The cost is $1.50 per pound.  Pieces should be weighed before glaze is applied.
Our Glazes:
The Dairy Barn keeps a relatively large supply of various glazes on hand.  Artists can purchase their own, or use the Barn's.  If using the Barn's glazes, bisque fired pieces need to be weighed before and after glaze application and the difference recorded in ounces.  (Use a pencil to write the before weight on the bottom of work before glazing).
The glazes the Barn generally keeps in stock are:
       Low Fire Glazes and Underglazes: Blick Essentials Gloss Glazes , Amaco Crystaltex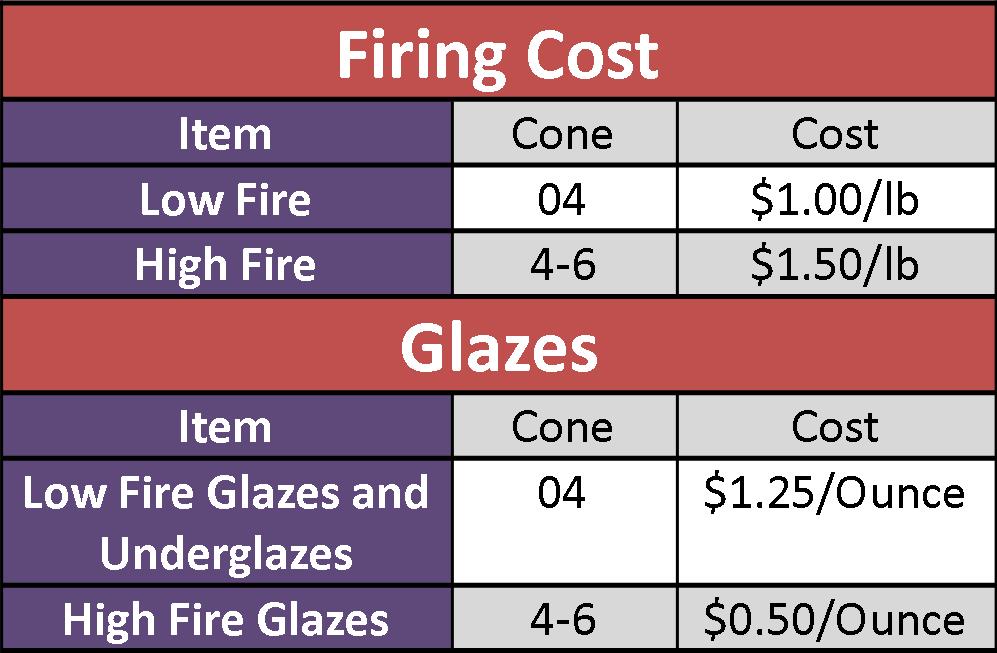 Glazes,  Mayco Stroke n' Coat glazes, Amaco Velvet Underglazes  – $1.25 per ounce.
       High Fire Glazes: Amaco Potters Choice Glazes; Columbus Clay Stoneware Glazes – $.50 per ounce.  These glazes are either in pints, gallon jugs or in 5 gallon buckets for dipping.
Monthly PDF of Studio Schedule