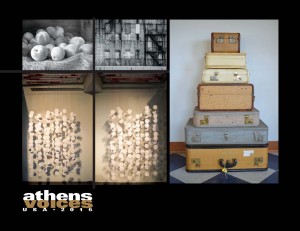 Athens Voices USA 2015
The Dairy Barn Arts Center announces the opening of Athens Voices USA '15, the 7th Biennial juried exhibition of mixed media art produced by artists that live or work within 30 miles of seven "Athens" communities in the United States. Athens Voices' opening is Friday, January 16, 2015 from 5:00-7:00pm and the exhibition will be open to the public January 17th through March 14, 2015. Gallery goers will view a collection of multi-media works from 48 talented "Athens" artists with a total of 75 pieces representing Athens, Alabama, Georgia, Illinois, New York, Ohio, and West Virginia. After the exhibition closes in March, Athens Voices USA '15 will tour to the Arthur Butcher Gallery at Concord University in Athens, WV and then to the Alabama Center for the Arts in Decatur, AL.
This biennial juried exhibition was created to promote the artistic talent in our community and highlight the unique variety of voices of artists in Athens, Ohio that live and/or work within 30 miles of our community. In 2013, Athens Voices was expanded to include any artist who lives or works within 30 miles of any "Athens" community in the United States.
Jurors Jamey Biggs, Didi Dunphy, and John Sabraw began with images of over 202 works by 74 artists and after five rounds of the jury, the jurors selected the final 64 pieces from 48 artists. Please visit our website after the opening of the exhibition for a complete list of artists and their work in the exhibit.Five awards were presented to artists at the opening from 5-7pm, Friday, January 16, 2015.
Many of artists will be present to share information about their work including artists from other "Athens" communities. The artwork in the gallery will be for sale and some artists will have additional work in the gallery shop.The Athens County Convention and Visitors Bureau, Ohio Arts Council and the National Endowment for the Arts helped fund this organization with tax dollars to encourage economic growth, educational excellence and cultural enrichment for all. ###
To view the work in the show, please visit this
online gallery.
Artists Selected for Athens Voices USA '15
Athens, Alabama Gary Anderson Katelin Harris Pamela Keller
Athens, Georgia Didi Dunphy (juror) Thomas Houser Rene Shoemaker
Athens, Kentucky Darryl Halbrooks
Athens, New York K. Velis Turan
Athens, Ohio Bret Barton Amanda Buchanan Kenner Bush Mary Chamberlain Connaught Cullen Julie M Elman Mateo Galvano Kathy Guest * (Best Use of Material) Lawrence Hamel-Lambert Chris Hedges Seanna Higgins Bruce Hogeland Kyle Johns Lynn Last Scott Marx Angela McDonald Carol McDonough Patty Mitchell Marcia Nighswander Sharon Phillips Asher Pollock Bonnie Proudfoot Josh Raftery Pandy Reiser John Sabraw (juror) Dennis Savage Jim Shirey* (Juror's award) Aaron Smith Misty Thomas-Trout* (Best of Show) Qing Wang Broooks Wenzel Art Werger * (Juror's award) Katherine Ziff Matthew Ziff
Athens, West Virginia Kylene Babski Kevin Bennington Jamey Biggs (juror) Amanda Lester * (Juror's award) Randall Lilly Jan Millard Jack Sheffler Sterling Snyder Jessica Sutphin
Athens Voices USA '15 Jurors' Statements
Jamey Biggs— Athens, West Virginia
"Artworks hold encoded information about their places of creation. An artist can choose to address the notions of location and community as the primary communications of an artwork or an artist can allow aspects of location such as landscape, climate, and culture seep into an artwork by default. Athens Voices USA 2015 juried exhibition creates a meaningful visual exchange between communities and locations that share a name.
The varieties of thought advancing the Athens communities are reflected by the diversity of communications accepted for Athens Voices USA 2015. Refined uses of media and materials are matched by innovative approaches and theories in this exhibition. Fine examples of traditional art making are balanced by more experimental works of art. The selected works will represent the artists and Athens communities admirably. These works project a dynamic presence that will result in a compelling exhibition. The Dairy Barn Arts Center is to be commended for organizing such a worthwhile exchange. I am grateful for the opportunity to serve as a juror for this exhibition and I am looking forward to seeing Athens Voices 2015 on display in my community."
Didi Dunphy—Athens, Georgia
"Jurying an art exhibit, to me is like putting together a wonderfully successful dinner party. In this case, my co-hosts, James and John and I put together a great guest list. And, this progressive dinner party starts at The Dairy Barn! Works of art were submitted and those chosen have become the invited guests. Each guest – or artwork – must arrive with a connection, something in common with the group. In this case the shared Athens relationship whether Ohio, Georgia, West Virginia or an Athens beyond. Yet, to keep the dinner conversation interesting, each must bring something different or beyond the ordinary from technique to theory, craft to style. While the contemporary works in Athens Voices may share the Athens locations, each piece brings something new to the table. I think it will be a good party."
John Sabraw—Athens, Ohio "It was an honor to be invited to jury this year's Athens Voices. It was a pleasure to work with Didi Dunphy and Jamey Biggs who comported such good humor while displaying erudite and conscientious consideration. But it was an absolute privilege to absorb the excellent work of so many artists.When jurying I try to be as objective as possible while keeping an awareness of a desire to represent, where quality permits, the diversity of the original entrant pool. The latter however was superfluous with this year's accepted artists as their work is so clearly invested and contextually imbedded. The work spoke volumes from a broad range of mediums, approaches and voices.This collection of equally persuasive yet truly diverse art speaks to pluralism rather than relativism, from a group of artists serving as excellent ambassadors for their respective Athens. My congratulations to each and every one of the artists, and my gratitude to my fellow jurors and all the people working at the three venues to make this happen."