Note: We have recently updated our Ceramics Studio usage policy.  Please read carefully.  New storage policy invoicing will begin after the first quarter of 2019 (Jan-March).
Materials/Equipment:
Members are welcome to use the studio equipment including the wheels, the slab roller, and the extruder.  Staff will fire work as needed. Consumable materials such as glazes can be purchased by the member artist either locally, or through the Dairy Barn (see below).  For the reader's information, a great local place for ceramics supplies and clay is the Nelsonville Emporium.  The Barn can order clay and glaze upon request.
Here's how it works:
There are different costs associated with member usage:
-Yearly Membership
-Quarterly Shelf Space (optional)
-6 month Locker Rental (optional)
-Quarterly Glaze and Firing Fees
Members will be invoiced quarterly for all applicable membership, storage, glazing and firing fees.  Fee amounts totaling under $5.00 may be carried to the next invoice cycle.
Yearly Membership: The ceramics studio is available for members to use the space and equipment. To be eligible to use the studios, one must be a current member of the Dairy Barn at the $50 (Individual/Artist) level or higher.  Memberships are good for a whole year.  All new members must complete an orientation to certify them for studio use. CLICK HERE to view the Ceramics Member Artist Orientation form so you'll know what to expect. This is a pretty straight forward checklist, and only takes about an hour.  This can be scheduled with ceramics studio manager Kelly Shaw kelly@dairybarn.org in advance of studio use by the artist.  The function is to make sure member artists know how to use the equipment and understand safety rules and Dairy Barn policies.  After their orientation, members may use the studio anytime it is open.  We update the studio calendar monthly.  The studio is not available when a class is in session.
Quarterly Shelf Space (optional):  New members may wish to retain a half shelf or full shelf to store their work and tools. Shelf space is included for the first quarter of membership. (Artists who work from home may not have need of a shelf). Each shelf is Approximately 2 feet x 4 feet.
After the first quarter of membership, artists may renew their shelf space. Half shelf renewal is $25.00 or a full shelf for $50.00 per quarter depending on the member artist's preference and the availability of shelf space.  At the end of each quarter, in addition to any other studio fees, members will be assessed a shelf renewal fee and can choose to maintain their current shelf size, or upgrade/downgrade as necessary.  
Note: In lieu of the $25/$50 shelf renewal fee, members may opt to participate in a quarterly Studio Volunteer Day instead. This would be scheduled for a Saturday Open Studio. Participants would spend time on a variety of studio tasks/deep cleaning/etc. 2.5 hrs would count for a half-shelf renewal and a full 5 hour day would count for a full-shelf renewal.  Arrangements for this may be made with the Studio Manager Kelly Shaw kelly@dairybarn.org.

6 month Locker Rental (optional): Members who wish to keep additional materials such as tools, clay, glazes and towels separate to conserve shelf space for work may rent a locker for $25.00 per 6 months.  A payment of $25 is due at the end of the 6 month period to keep the locker space.  Members will be sent email reminders when their rental is about to expire.  Members may purchase locks for their lockers, but the Dairy Barn needs to have either a spare key or the combination to the locker.  To rent a locker, contact Education Director Lyn Stanton lyn@dairybarn.org.
Firing and Glazing Fees: Members are asked to fill out firing slips and place them with all "to be fired work". Slips will be collected and the amounts recorded by the Studio Manager
The cost of firing and glaze is done by weight (see table below).  Fees will be totaled and invoiced for each quarter in the beginning of the next. (I.E., winter quarter ends March 31st, invoices will be sent in early April.
        Bisque/low fire: Unless an artist requests a different firing temperature, all bisque firings and low firings will be fired to cone 04.  The cost is $1.00 per pound.  Pieces should be weighed when bone dry.
       High Fire/Glaze Fire: Unless an artist requests a different firing temperature, all high/glaze firings will be fired to cone 5.  The cost is $1.50 per pound.  Pieces should be weighed before glaze is applied.
Our Glazes:
The Dairy Barn keeps a relatively large supply of various glazes on hand. Artists can purchase their own, or use The Barn's.  If using The Barn's glazes, bisque fired pieces need to be weighed before and after glaze application and the difference recorded in ounces.  (Use a pencil to write the before weight on the bottom of work before glazing).
The glazes the Barn generally keeps in stock are:
       Low Fire Glazes and Underglazes: Blick Essentials Gloss Glazes , Amaco Crystaltex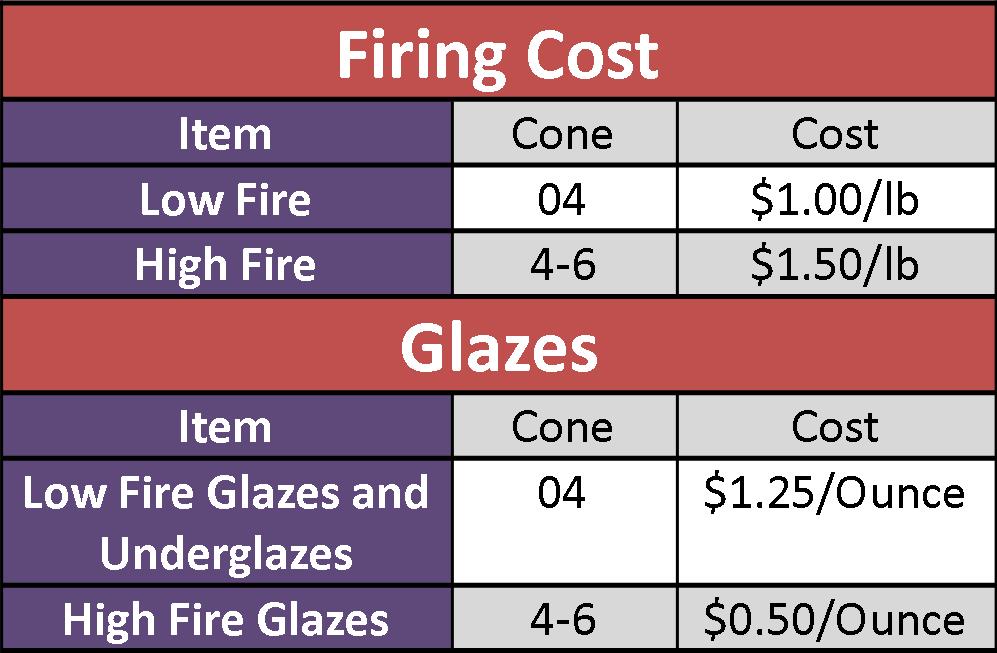 Glazes,  Mayco Stroke n' Coat glazes, Amaco Velvet Underglazes  – $1.25 per ounce.
       High Fire Glazes: Amaco Potters Choice Glazes; Columbus Clay Stoneware Glazes – $.50 per ounce.  These glazes are either in pints, gallon jugs or in 5 gallon buckets for dipping.
Firing Schedule: An "as needed" firing schedule will be arranged.  The Dairy Barn has two electric kilns.  Staff members are the only people who may actually fire the kiln, but firings can be requested.  A monthly PDF will include planned glaze days and kiln fires.  Shelves on the mobile cart nearest the kilns are designated as the "to be fired" shelves.
Work Retrieval: Fired work will be returned to the members' designated shelves. Work that cannot be returned to an individual shelf due to space constraints or inability to identify the maker can be claimed from the "To Be Fired" shelf.
Studio Schedule: We post a monthly calendar to our website, click below.
How are we doing?
Member feedback is essential to our ability to support our members and meet their needs.  Have a comment for us?  Let us know.  CLICK HERE for a link to our digital suggestion box.  Your responses are anonymous.