Click for a list of all upcoming classes and workshops in the fiber arts studio.
Most Thursdays from 5-8pm the fiber studio is open and free to the public.
Each 1st Saturday of the month there is a Free fiber arts activity in the Fiber Arts Studio from 1:00-3:00 pm.  These activities are for people of all ages and abilities. CLICK HERE for more information and for a schedule of upcoming All Access Events.
Every 2nd Thursday in the Fiber Arts Studio We will have Skill Building-Workshops.  Click for a schedule and registration information.

There is so much to see and do int he Fiber Studio!  Click HERE for monthly calendars of all events, classes, workshops, activities, and open studio Hours!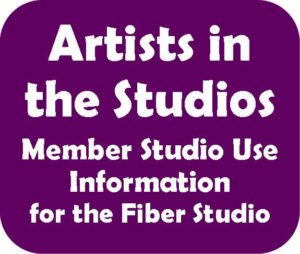 Become a Member Artist and Use the Fiber Arts Studio to complete your own projects!
Contact Us:  Learn more or get involved with the The Harriet Jacoby Anderson Fiber Arts Studio by contacting Ann Judy, Studio Manager by emailing her at ann@dairybarn.org or calling (740)592-4981. 
Resources
Fiber Arts Studio Advisory Board Members
Join our Fiber Arts Group on Facebook
Our Friends, Partners & Supporters
Equilter.com
Friends of Fiber Arts
Fiber Arts Now
Nelsonville Quilting Company
Studio Art Quilt Association
Pictured above: Woolworks by Harriet Jacoby Anderson, Athens County Ohio native
About Our Fiber Art Studio:
Officially titled The Harriet Jacoby Anderson Fiber Arts Studio,
our new fiber arts studio space was named after the founder and first Director of the Dairy Barn Arts Center who was active in 1978.  Between 2016 and 2017 the Dairy Barn underwent a massive renovation and expansion.  While planning the new addition, we knew we wanted to make the fiber arts a priority at the Dairy Barn and honor our long history of involvement with the contemporary fiber arts world.  The new fiber arts studio is now a place where artists from near and far can come together to share their knowledge, exchange skills, get inspired, and teach new artists the skills of their craft.  Additionally, the Fiber Arts Studio is a place where members of the community can test their artistic prowess, as well as learn new and valuable skills that help people live more sustainable lives.  Harriet's vision of The Dairy Barn was to include:  "The creation of an area in and around the barn where individual artists (potters, weavers, metalworkers, woodworkers, etc.)  may actually practice their skills" and "A viable school for artisans and craftspersons, drawing upon and serving the great number of such skilled persons from all of southeastern Ohio."  We seek to honor our founders vision and have been blessed to have the studios construction underwritten by her daughters and grandchildren.   We are truly proud to be able to present to our community the Harriet Jacoby Anderson Fiber Arts Studio.