Private: #B253 Happy Hour at Home: Sunset Through The Reeds
April 30, 2020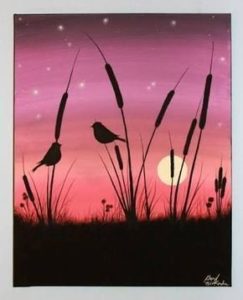 This weeks painting will feature a bug's eye view of a sunset.  Bold colors and a simple silhouette techniques will make this an easy project.  Colors can be customized, but instruction will be based on a typical sunset color pallet with lots of orange and pink tones.  So, grab a brush and a glass and log in to paint along with Lyn.  Unlike our usual happy hours, which are not structured, this one will be a little more step by step because of the nature of it being an online workshop.  We hope you'll join us and put your finished work on our "Quarantine Crafts" page on Facebook.  Materials to gather or order are listed below.
To participate, register and submit payment below.  You will get a confirmation email right away with a "test" link to the online workshop site so you can test it.  Registration will close 1 hour before the event, at which time all registrants will receive a new email with a link to join the real online workshop.
Questions? email lyn@dairybarn.org
 You can order materials online if you like. Click Here for Lyn's Recommended Supply List to order from Blick.com.
Alternatively or additionally:
-A canvas/canvas board/Mixed media paper* – At least 9×12 inches
-Acrylic plaint- Doesn't need to be very expensive, a basic kit will be great
-Paint brushes in a variety of sizes
-Paint pallet- you can use ANYTHING, an egg carton, an old cookie tray covered in wax paper, I like to use a paper plate.
-Water bucket- yogurt containers are the BEST!
-rag (old t-shirts or dish towels work great)
Make sure you prepare your space to be accident ready.  What if your cat knocks your paint on the floor?
*If paper is what you have, it needs to be for mixed media.  It means it can handle wet paint without falling apart.  You can also improvise and use a piece of cardboard like from an amazon package or cereal box, or it you have it, a piece of wood.  Get creative!  Just make sure to prepare the surface if it's paper or cardboard, i.e, with a coat of gesso or even just a layer of white acrylic before you start.
You can also purchase supplies online or at your local stores.