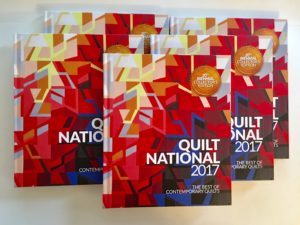 The 20th Biennial of Quilt National will truely be a special exhibition and celebration.  We are pleased to announce the pre-sale of our 20th Biennial limited edition Quilt National '17.  This 8.75″ x 10.25″, 112 page hard cover catalog and is full color designed and printed by Fiber Arts Now.               The photographs were done by Gary Kirksey, Sam Girton and Larry Hamel-Lambert.  The Cover Quilt is Prometheus by Kerri Green
There a number of contributors to the catalog along with jurors statements from Nancy Crow, Art Martin and Petra Fallaux; Marvin Fletcher and quotes from partners and artists throughout.
The pre-sale of Quilt National '17 Catalog begins April 11, 2017 and features a number of packages.  Pre-sale copies of the Catalog will be mailed out on Friday, May 26. 2017 or can be picked up at our newly built Gallery Shop.
This year, we have a package that includes a Quilt National catalog and a DVD that contains artists talking about their quilts, which will be insightful to quilters and art lovers to hear from the artists about thier works of art.   The DVD will be mailed out to anyone ordering the package before September 1, 2017 media mail and will not be available individually.
The second package includes the catalog, DVD and one admission to Quilt National exhibition in Athens, Ohio.
We thank the jurors, photographers, sponsors, friends, artists and our new partner, Fiber Arts Now, who did a wonderful job on the design, printing and  marketing this beautiful historic catalog.  Make sure to order today, we only have a limited printing.