Summer Art Camp 2017
May 22, 2017 - August 11, 2017


What is Summer Art Camp?
Since 1996, The Dairy Barn has held summer youth programming.  Over the years, we have grown these programs into what is now a true gem of The Athens community.  Our Education and Camp Director Lyn Stanton oversee's every detail of the camp with the help of a fabulous team of wonderful local teachers and the assistance of A Camp Coordinator.  Our teachers are local artists and teachers and they work very hard to create fun and unique lessons and activities for our kids.  At Summer Art Camp, campers learn drawing, painting, ceramics, fabric arts, sculpture, and much more.  Plus we employ lots of other disciplines like science, math and history into the curriculum over the summer for a comprehensive and extensive learning experience.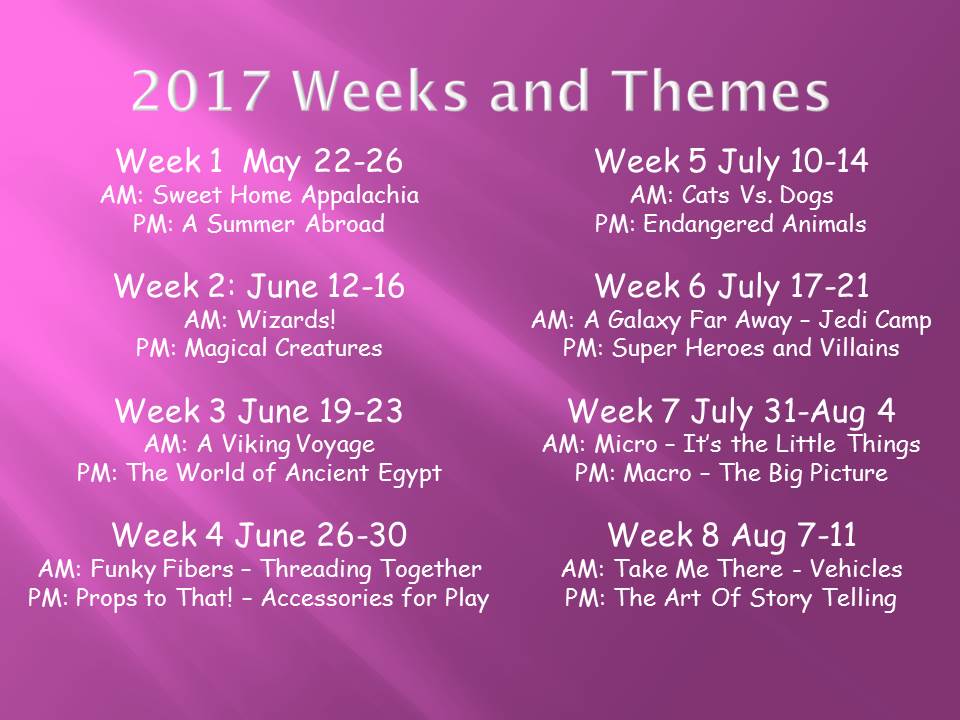 Questions about Sponsorships?  Contact lyn@dairybarn.org    
Note: In order to attend Summer Art Camp, campers must be registered and their registrations confirmed via an email from Lyn by the Tuesday before the week of camp they are attending.  This is to prevent confusion with check in on Monday mornings at the Barn.  If you registered, but your registration wasn't confirmed, or you are unsure, please feel free to contact Lyn the week before your camper starts lyn@dairybran.org. 
Sign My Camper Up!

You will be asked to sign a form saying that you have read and understand the information in this handbook.  The handbook should be able to answer many of the questions you may have about our Summer Art Camp.  When you have decided on what themes your camper will attend, there are two ways to register.  Themes and the daily schedule are listed in the handbook, and at the bottom of this page.
One way to Register, the Paper Route:
Here is the SAC 2017 registration form.  You can print it and fill it out at home.  Please be aware this form has a second page with required signatures for participation in our camp.  Please make sure you print this page and fill it out to submit with the information portion of the registration form.  This requires having read the Parent Camper Handbook!
You can mail the form into the Barn if that is convenient for you.  Mail to:
Attention: L. Stanton The Dairy Barn Arts Center P.O. Box 747 Athens, Ohio 45701 
 Or, register online.  Fill out this form, and follow the link beneath it to pay in the online gallery shop.


Just a reminder, the cost is $75.00 for members and $90.00 for non members PER THEME, or HALF DAY, week long session.  There is also a one time $25.00 registration fee.
Frequently Asked Questions & Basic Information:
Who can come to Art Camp?
Campers who have completed a year of kindergarten through campers going into 7th grade are eligible to attend our camp.  We divide our campers by age groups and they rotate through different classes over the camp day.
Do I need to be a member?
Summer Art Camp is available to all community families, however, a family level membership does come with a discounted price of tuition.  For some families who choose to sign up for several sessions of camp, the membership often pays for itself!  You can sign up right on our website.  CLICK HERE
How does the schedule work?
There are 8 weeks of Summer Art Camp programming over the course of the summer.  The weeks don't always run consecutively, so please pay careful attention to the schedule.  Each week of camp has an AM session, and a PM session, and each session has a theme.  Campers can sign up for just mornings, just afternoons, or full days.  We offer a lunch time and a recess time for our all day campers, and our half day campers are always welcome to join us for these to give parents a little more time for pick-up/drop off.  Campers bring their own bagged lunches, but the barn provides a light snack once in the morning and once in the afternoon daily.  For a full day's schedule, check out the parent camper hand book.  (You'll find the link below).
How much does Art Camp cost?
After a one time registration fee of $25.00, Each session of camp either AM or PM is $75 for our family level members, and $90.00 for our non members.  For example, if you are a member and you were to sign your camper up for the first week both morning and afternoon, and the third week just the mornings, the total would be $250.00
Sponsorships
A limited amount of sponsorships are available on a first come, first serve basis.   Each sponsorship pays for one child to attend one session either AM or PM week long session of camp.  Each camper is limited to two sponsorships.  More sponsorships may be allotted at the discretion of the Education Director.  We trust our community to be honest about their own financial needs.  We do not ask families to provide person information regarding their income, so we trust that only people who feel they truly need a sponsorship will request one.  A good option for many families is to use the sponsorships to double their money, as in, they pay for  one session, and match another session with a sponsorship.  To get more information or to request a sponsorship before registering, please contact the Education Director lyn@dairybarn.org or call 740-592-4981 and ask to speak with Lyn.  All sponsorship information will be kept confidential.    Why Sponsor a Child for Art Camp?  If you would like to contribute to our sponsorship pool, CLICK HERE.
 A note from Lyn: In the past, I have allowed for digital devices to be used by campers during free time at camp.  After getting some constructive feedback from parents, I have decided to no longer allow media devices.  These include: Smart Phones, I-Pads and other Tablets, and ALL hand-held electronic video games.  Campers may bring a Kindle provided the device's only capability is as a book.  They may also bring real books and toys from home with my advance approval.  If you have questions about this decision in policy, please feel welcome to ask me!
Camp Daily Schedule:
Morning/AM Session
Drop off for Campers is between 8:30 and 9:00 am
9:05- Rules and Introductions
9:15-11:55 Morning Classes (three classes and a snack)
12:00-1:00 Lunch/Recess (All Campers whether just morning, just afternoon, or all day can join us for lunch and recess time.
Afternoon/PM Session
1:15-3:55 Afternoon Classes (three classes and a snack)
4:00-5:00 Aftercare
We charge $25.00 for the week or $5.00 per day.  This time is basically free time for the campers and is for the convenience of the parent.  Campers may play inside or outside for aftercare.  They are attended either by the Education Director or other Art Camp staff.