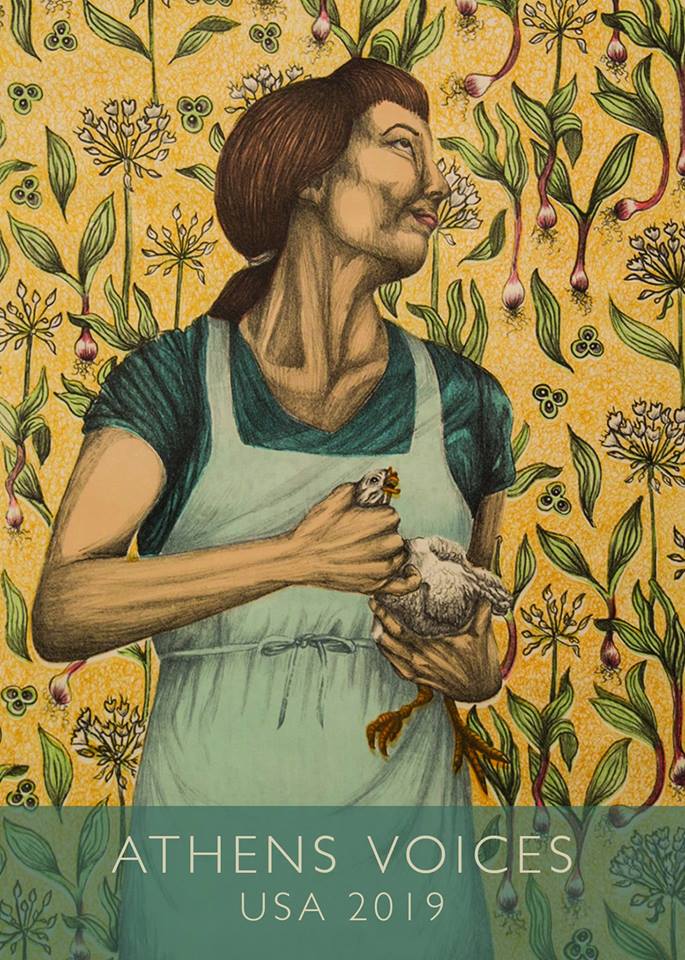 Our biennial exhibition, Athens Voices USA include artists of any media living and working withing 30 miles of an Athens community anywhere in the United States.
---
Our jurors this year are Brian T. Alloway, Glass Program Director at Hocking College, Karla Hackenmiller, Ohio University Professor of Print Making and School of Art + Design Associate Director, and Joseph Norman, University of Georgia Professor of Drawing and Painting.
Friday, January 18, 2019 – Opening Reception 5-8pm
Exhibition is open to the public Saturday, January 19, 2019 – Saturday, March 16, 2019
Admission to Athens Voices is FREE for all thanks to Envisage Wealth
Athens Voices 2019 Winners
To be announced on January 18th, 2019 at the opening reception.
Best of Show
3 Juror's Awards
Most Innovative Use of Media
The People's Choice Award will be tallied by the close of the exhibition and the artist will be announced.
Athens Voices Exhibiting Artists:
Gary Anderson Huntsville, Alabama
Kylene Babski Lindside, West Virginia
Rachael Bailey Athens, Ohio
Sherri Biegeleisen Athens, Ohio
Sarah Brown Lancaster, Ohio
Kenner Bush Athens, Ohio
David Callahan Millfield, Ohio
Mary Chamberlain Athens, Ohio
Jennifer Cherrier Maple Grove, Minnesota
Soojin Choi Minneapolis, Minnesota
Natalie Condrac Trafford, PA
Connaught, Cullen Chauncey, Ohio
Terry Eiler Athens, Ohio
Julie M Elman Athens, Ohio
Kate Fetterolf Athens, Ohio
Belle-Pilar Fleming Athens, Ohio
Connor Furr Athens, Ohio
Madison Gibson Roswell, Georgia
Alexander Graham Albany, Ohio
Paige Greeley Athens, Ohio
Kari Gunter-Seymour Albany, Ohio
Mark Hackworth Athens, Ohio
Madison Hager Athens, Ohio
Madison Hager Athens, Ohio
Daniel Harper Athens, Ohio
Quinn Hunter Athens, Ohio
Tina Kelsey Shade, Ohio
Tracy Kerdman Saugerties, New York
Mahera Khaleque Augusta, Georgia
Gary Kirksey Athens, Ohio
David LaPalombara Athens, Ohio
Scott Marx Athens, Ohio
Nisiqi Athens, Ohio
Danette Pratt Coolville, Ohio
Mollie Rabiner Athens, Ohio
Emma Reasoner Athens, Ohio
Pandy Reiser Athens, Ohio
Paula Reynaldi Athens, Georgia
Meg Roussos Johnson City, Tennessee
Katherine Runevitch Athens, Ohio
Dennis Savage South Bloomingville, Ohio
John Schriner Athens, Ohio
James Shirey Athens, Ohio
Ashely Snyder Sugar Grove, Ohio
Saral Surakul Athens, Georgia
Benjamin Thrash Douglasville, Georgia
Jon Vogt Athens, Georgia
Jonathan Walsh Vienna, WV
Broooks Wenzel Athens, Ohio
John Williams and Joshua Williams Athens, Ohio
Teresa Faires Winning Athens, Ohio