Instructor: Mary Roediger
Wednesdays from 3:00-5:00pm in the Fiber Arts Studio
This course is divided into 2 project based series.  Students can attend one or both.
Project 1: Hand Printed Fabric into Skirt or Shorts!
Catalog #A050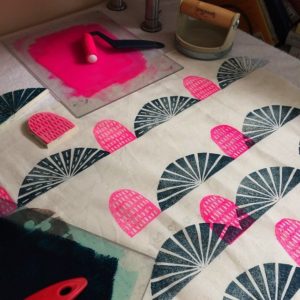 Four Sessions : January 17, 24, February 7, 14
In this mini series, students will have an opportunity to express themselves and get creative by creating their own patterns to print on Fabric.  They will learn the basics of sewing on a machine as they make their hand-printed fabric into a fun skirt or pair of shorts!  Students will need help from an adult in purchasing 1.5 yard of their choice of cotton fabric.  All other materials will be provided.
Cost: $50 Members / $55 Non-Members
Project 2: "Make a Monster"
Catalog #A051
3 Sessions: Feb. 21, 28, March 7
In this mini series students will get serious about sewing as they turn old t-shirts and socks into adorable little critters that crawl right out of their imaginations.  A great sewing skill builder and super fun project!
Cost: $35 Members / $40 Non-Members
To Register,
Please make sure you have read our after school policies and other important information on the After School Programs Page
Fill out the online form below then follow the link beneath to pay online in the online Gallery Shop.  You can sign up for one -all of the after school teen programs on this registration form.  If you are interested in receiving a scholarship for your student, email lyn@dairybarn.org and Education Director Lyn Stanton will walk you through the simple application process.