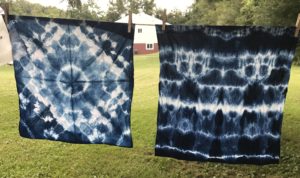 Throughout the day under the canopy
Quilt National Super Star and Indigo Dyeing Queen will be here to help you! Drop in to tie up a bandanna and experience the thrill of Indigo.
Supply fee: $10
Adults and Children aged 10+
No reservations are needed, just stop by!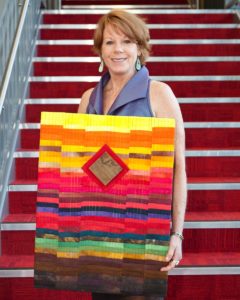 About the Instructor:
Daren Redman is a three-time Quilt National artists. Her art medium is the quilt made from her hand-dyed fabrics, representing abstract landscapes in textiles. The endless colors in the leaves, grasses, tree trunks, moss in the Indiana landscape is a constant inspiration. Nature and her travels are a recurring theme in her large-scale wall art and 3D textile work. She only uses her hand-dyed fabric in her art which she cuts intuitively to represent her surroundings whether in her back yard or on her travels with her husband through Europe and the United States.
Daren's artist in residencies have included the 
Grand Canyon National Park with a 3 week stay where she hiked Rim-Rim, photographed, dyed silks and created 8 large-scale 3D textile installations
 while at the North Rim artist cabin. She also was at the Mill Race Center, Columbus, Indiana for one week where she created 2 large art quilts. She was chosen as an artist for the 
Arts in the Parks program with the Indiana Arts Commission and created in the Brown County State Park for 6 days, dyeing silks with natural dyes. Visit Daren at darenredman.com
Make sure to check out her day-long workshop happening the day before QuiltFest!