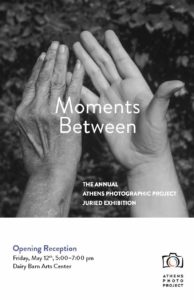 The Dairy Barn Arts Center welcomes the Athens Photographic Project's Annual Exhibition, Moments Between.
Athens Photographic Project (APP) proudly presents new work by artists who participated in APP's 2016-2017 photography classes. Please join us at the Opening Reception to meet the artists and celebrate their work! The exhibition is free of charge and on display daily from 12:00–5:00pm, May 11–May 18.  The exhibition is closed Sunday, May 14, 2017 (Mother's Day).
Jurors: John and Julie Agnone
Opening Reception:  Friday, May 12th, 5:00 – 7:00pm
Dairy Barn Arts Center, 8000 Dairy Lane. Athens, OH
About the Athens Photographic Project: 
About APP is non-profit program founded in 2000 that strengthens mental health recovery support by providing individuals with the opportunity to engage in self-discovery, creative expression, and community contribution through the arts. athensphotoproject.org
The Exhibition will be in the loft on the 2nd floor of The Dairy Barn Arts Center. 
Due to Construction, please follow signs for entrance to the Dairy Barn Arts Center and to the exhibition.