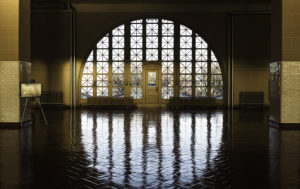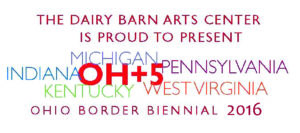 The 10th Biennial OH+5: Ohio Border Exhibition Opens at The Dairy Barn Arts Center
(Athens, Ohio) The Dairy Barn Arts Center is pleased to announce the opening of the 10th biennial OH+5: Ohio Border Exhibition featuring artists from four states and 31 artists. The exhibition was to open Friday, January 22, 2016, but due to the major winter storm will be delayed one week to Friday, January 29th from 5-8pm and open to the public beginning on Saturday, January 23, 2016, noon-5pm through Saturday, March 12, 2016.
The jurors for the exhibition were Susan Hostetler and Bartholomew Ryan and they viewed over 300 images from over 113 artists from Indiana, Ohio, Kentucky, Michigan, and West Virginia. The final exhibition features 56 works by 31 artists from Indiana, Kentucky, Ohio and West Virginia. The 56 works include: ceramics, video, wood, pictures, photography and mixed media.
"I was looking for honesty of vision, mastery of material, a fresh point of view, and willingness to take risks. I was open to all mediums. I wanted to see a point of view, and some poetry to take my imagination and feelings to another place," stated Susan Hostetler, Juror and Gallery Owner.
Bartholomew Ryan said, "I was really impressed and delighted by the variety of contributions: we had work in a host of media, with very different approaches to craft, concept, and process. Many works had a an airy light feel, others were surreal and uncanny, others a dry or sardonic wit or identity based focus that lead to fascinating discussions about intention due to the anonymity of the procedures."
The OH+5 Exhibition begins a very exciting year at The Dairy Barn Arts Center. A schedule of events for the year and by exhibiting artists will be posted on the website. The exhibiting artists will also be featured in the Gallery Shop.
Click Here to see the list of artists and to learn more about the exhibition.
Click Here to see the works in our online gallery(available online 1/30/16).