Description
Thursday April 4th and 11th 
5:00-7:30 pm
Instructor: Barbara Ery
What wishes are you sewing into the fabric of your life?
Join Artist Barbara Ery for a unique and meditative art making experience. Be ready to dig deep into the new slow stitching movement, seeing in a new way something you might otherwise not have noticed. Pausing with a needle and thread taking time to enjoy the journey.  You will create a Spirit Warrior Doll embellished however you like and infused with your energies, thoughts and prayers and wishes.
Throughout this two session workshop, participants will learn different stitches, stain fabric with tea, and incorporate a wish inside the doll either by adding words or a charm. You will cut a shape out, sew up, and stuff using the machine. Then  build on her (or him) in many layers using beads and embellishments.  Barbara will also introduce Kantha.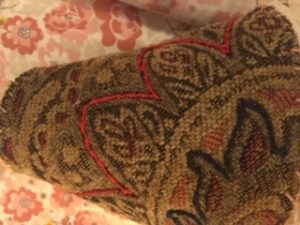 Kantha is a type of embroidery typical of eastern South Asia. Especially in the Indian state of West Bengal and Odisha and in Bangladesh. Old saris are stacked on each other and hand stitched to make a thin piece of cushion. This technique has many applications in fiber arts from up-cycling, to quilting.
between the two sessions, participants are welcome and encouraged to come use the fiber studio during open studio hours to continue working on their dolls.
Some materials will be provided, such as muslin and stuffing and thread for the basic doll form.  Additional materials should be brought by the participants and should include a variety of objects you wish to incorporate.  Barbara recommends an assortment of small fabric pieces, beads, buttons, embroidery floss (a must have) and any other findings or embellishments, as well as an assortment of sewing needles.