Description
Instructor: Bonnie Proudfoot
Catalog #A111
Mondays and Wednesdays:10:00-12:00
4 Sessions beginning Sep. 23, 25, 30, Oct. 2
Please follow the link to complete this Registration Form before completing your purchase.
In this engaging 4-session class, local glass artist Bonnie Proudfoot will introduce you to techniques of making glass beads with a torch. Often called lampworking or flameworking, this practice dates back to the ancient Egyptians and Roman times.  This class is for complete beginners or for those who have already taken basic flamework, but want to enhance their skills and learn new techniques. The course will cover the basics, including using and selecting tools, materials, and safety practices. By the end of this comprehensive four session class, you will learn how to set up a torch, how to melt glass rods into beads, and how to decorate the beads using various techniques, with a quick introduction to creating jewelry such as necklaces, earrings and bracelets.  After this class, you will have the skills and knowledge to continue your flameworking independently.
* Participants will complete as many beads as they are able to create.  All materials are included.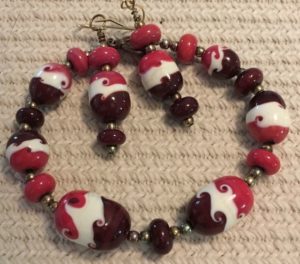 Note: Melting glass requires high temperatures, and students will be required to wear protective glasses (these are lightweight, easy to see through, and remove the intensity of the flare from the flame). Long pants and closed shoes are suggested.
About the Artist:
I (Bonnie Proudfoot) have been working in glass since 1975.  I began as a stained glass artist, then I branched out to fusing and slumping glass, casting, and other types of kiln work, and finally I developed a passion for flameworking and glass bead-making. I like the freedom and spontaneity that working with a torch to melt glass offers. Each bead can become its own work of art! My glass work can be seen on my website: www.bonnieproudfoot.com