Description

Cost: $54.00 Member / $60.00 Non-Member
Local Artist Barbara Ery is here to guide you on this colorful journey!  Each participant will complete a  finely painted silk scarf.  Participants can wash and set their scarves at home or have them dry cleaned to ensure the permanence of their work.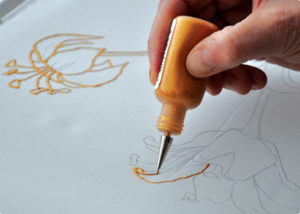 We will be using fabric dyes for this class, so please dress in appropriate clothing!
-Silk paintings are created on white silk. The dyes are painted onto the stretched surface of the silk using a paintbrush. The dyes flow into the fiber and bond with the proteins, becoming a part of the silk thread. This is different than oil, acrylic, or watercolor paints which sit on the surface of the support. These paintings are steam set – locking the dyes into the fiber and making the color of the painting reasonably lightfast and washable.- (from Spin: Silk Painters International – www.silkpainters.org)
Please follow the link complete this Registration Form before completing your purchase.