Description
Learning new ways to create different items from up-cycled materials is the BEST!  Join Lyn for a new rag rug technique based on a method that traditionally uses an altered toothbrush and is then reminiscent of macrame.  In this workshop, Lyn will demonstrate how to get started, and then how to increase your stitches.  If there is time, she will show you how to do a different shapes. You will not finish a rag rug (they take a while!) but you should learn everything you need to get started and finish it at home. Unlike crocheting a rag rug, this method is a little easier on the hands.  The best material for this is old bed sheets.  You want a fabric from which you can get strips between 2 and 5 feet long and that has little to no stretch. Also, finding a plain handled toothbrush is near impossible these days and altering it to make basically a giant needle is a little bit too much work. Luckily, through the magic of the internet and YouTube, Lyn found an awesome and cheap substitution using some wire.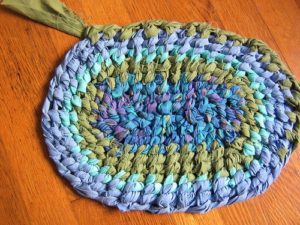 What to Bring: At least 1 full size bed sheet. Cotton is best, should tear somewhat easily and in straight lines. We can even swap some strips between participants to add more variation to our rugs.
The Dairy Barn will provide the wire to fashion the "needle" and you will take it home.