Description
May 4
12:20-4:30
Registration Deadline: April 19 (The Artist will need to prepare the materials in advance for each participant which takes time).
Join Artist Susan Klemetti and learn how to make natural dyes and create amazing prints in this unique fiber arts workshop.  Participants will:
1. Learn the technical skill of how to create pastes for printing and
painting with natural dye extracts. We will explore brush painting, simple block prints (probably potato) and pre-made woodblocks.
2. Make our own artistic creations on paper and fabric. We will print on partial sheets of a variety of paper types and then choose 3 to mount on cards. We will practice on small chunks of fabric first and then print our own zippered makeup pouch. The fabric will need to cure a few days at their homes. I will send home instructions on how to heat set and wash their fabric.
The first half of class will be devoted to paper, the second to fabric. There will be a 15 minute break in the middle.
About the Artist: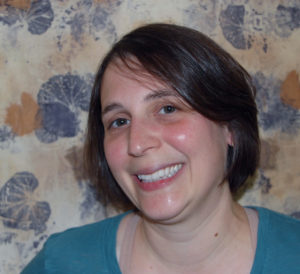 Susan Klemetti's eco-conscious art begins in the gardens, fields, and forests around Granville. She grows and forages for (with a rare purchase) leaves, flowers, roots, and seeds that provide colors that are a direct reflection of place. Fabric dyed with natural dyes creates patterns and colors that shift subtly as the light changes throughout the day and natural colors always seem to harmonize with each other and their surroundings. Susan adds complexity and texture using hand-stitching with globally inspired patterns. As a third-generation textile artist, she was taught by her mother to embroider, knit, sew, weave, spin and dye. She absorbed fiber art through books, museums, and private collections. During graduate school in anthropology (University of California, Davis) she was further exposed to small-scale traditional textile production and the global diversity of art. Susan is particularly inspired by Chinese brush painting, ancient European cave art, and the art of the Australian dreamtime. Not only was she inspired by the art, but this life-long education in textile production has inspired Susan to be highly conscious of her ecological impact (water use, toxicity, invasive species, fiber waste, etc) and strives to lower the impact of her creations.