Description
SESSION 1:  May 22-23
Class 1 ~ Movement & Light: Additions for Art Quilts with Marianne Williamson
Art comes alive when light and movement are the focus of an artist's work. When attention is given to values and composition, to bring the viewer into the work, other senses can be awoken. A smell, a touch, the feeling of cold, or weightlessness, or a cacophony of sound can all be shared through a piece. I would like the participant to add more to their piece than design, but the century old principals
of dark, medium and light, size of shapes, and repetition through the work are explored. Participants will use raw edge appliqué, free motion quilting, stencils, paint, Sharpies, and other techniques that
they choose, to make the work come alive to touch, with even the illusion of smell and sound! You can change details and even the main elements with paint to add freedom, light and movement. In 2 days the participant will learn many new techniques to add movement and light to their own art quilts.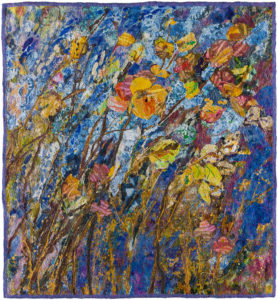 May 22-23, 10am – 4pm
LabFee $15
Early Bird: $ 200 Members / $225 Non-Members
After May 1st: $225 Members / $250 Non-Members
Participants will need to bring many materials and some tools/equipment. Click Here for materials List