Description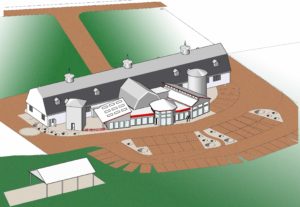 The Building for a Second Century Project has three main goals:
• Attract members of the community and visitors from outside the region to Southeast Ohio, both literally and virtually via the internet;
• Enhance the Experience that visitors have at the Dairy Barn; and
• Sustain the Dairy Barn and our operations into the future, building on this special piece of Ohio history and impacting the economic, cultural and artistic development of the people who call this area home.
The Outcomes of the Second Century Project will be:
1. Increase income for local artists who will sell their art and crafts in our Gallery shop and through our new website.
2. Increase the number of children that we can accommodate in our classes and camps, which will increase the number of teachers who we can hire to serve those children.
3. Increase the number of visitors to our enhanced gallery with new sound, walls and other improvements who will spend additional dollars in our gallery shop, local restaurants and hotels.
4. Sustain 6 jobs and hopefully add up to two additional staff at the Dairy Barn Arts Center as well as increase the number of teachers with whom we contract to provide our workshops, classes and camps.
5. Increase the number of events, workshops, classes, and weddings that occur due to the upgrades at the facility. These events will bring visitors to stay at local hotels and spend money in our community.
6. Increase our (heating, cooling and lighting) energy efficiency and use of our historic space.
7. Increase earned income for the organization to make it more sustainable over time.
Request to You
The Dairy Barn Arts Center requests a leadership gift toward our $1,000,000 capital campaign goal from you. To date, we have raised $200,000 from the State of Ohio's Capital Budget, $100,000 from the O'Bleness Foundation and $541,421 from board members, foundations, businesses, friends and artists for a grand total of $830.421(8-21-15).
We are asking donors at these levels:
Pioneers: $100,000-$1,000,000
Founders: $50,000-$99,000
Pillars: $10,000-$24,999
Sustainers: $5,000-$9,999
Supporters: $1,000-$4.999
Friends: $1 to $1,000
If you would like to pledge over a period of up to three years, indicate your pledge in the note section of the transaction.  We will send you a confirmation and formal receipt.  If you are interested in naming opportunities, contact Jane Forrest Redfern to review them.  Thank you!