Two Day Hands-on Workshop with Richard Nickel
Catalog # B043
---
Saturday, September 23rd and Sunday, September 24th
9:00 am – 4:00 pm
---
Workshop Description: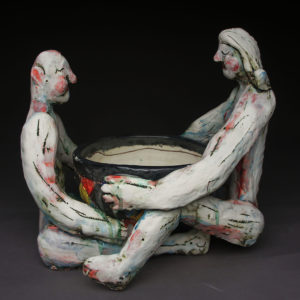 Found and Formed
In this workshop, students will use multiple ceramic techniques to create salt cellars using figurative clay sculptures combined with vessel forms.  Salt cellars are traditional forms made to hold and dispense salt. Long used by man as a symbol, salt is a natural mineral used to preserve and season, as well, at one time, as a form of currency. These salt cellars will explore physical nature by describing the human form as a vessel itself containing, like salt, symbolic value and practical function – the salt of the earth.

Clay as Canvas
Surface and form cannot be separated. Students will explore a variety of surface treatments on their salt cellars. Techniques may include image transfer, slip trailing, sgraffito, mishima, wax inlay, stenciling, in addition to layering techniques.
Clay with a Message, Tying It All Together
By combining surface, form and content in the salt cellars, students will discover and explore an allegorical approach to combining vessels and figures.
---
This workshop is designed for ages 16 and older.  Previous clay experience is useful, but not necessary. If you need additional information, contact kelly@dairybarn.org.
---
Richard Nickel is an Associate Professor of Art at Old Dominion University in Norfolk, Virginia. Learn more about Richard here.
---
Included in Registration…
* Free admission to the

Contemporary Ceramics 2017

e

xhibition

 at The Dairy Barn

.

* Morning tea and coffee social on both days of the workshop.

* Lunches provided at The Dairy Barn (vegetarian/gluten-free options available).

* All necessary tools and materials.
$200.00 Dairy Barn Members
$220.00 Non-Members
To register for this workshop:
Fill out the online registration form (below), OR, download and print this Registration Form for Classes and Workshops making sure to add the workshop catalog number (#B043) and title (Salt Cellars).   Please send forms and payment to the Barn via mail:
Attention: Lyn P.O. Box 747 Athens Ohio, 45701                                                    Or drop it off during our business hours Monday-Friday 9:30-5:30
You can register right here online!   Lyn Stanton (Education Director) will confirm your registration via email.  You will also receive a menu from which to select your lunch choice for both workshop days.  The cost of your lunches is included in your workshop fee.  Scroll down after hitting submit  for a link to pay in the Gallery Shop.