Open Studios are back!  Earlier in the year, we tried out a Saturday open studio program with great success and we are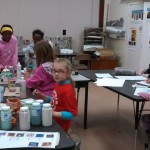 bringing it back in the new year.  These are open to all, no registration necessary!
From January 9th through April 16th, 2016 we will have two Open Studio Saturdays each month.  These will always be on the second and third Saturdays of the month from 1:00 pm to 5:00 pm.  The Studio is the ceramics studio.  The reason we have chosen to conduct studios on these days is so that folks making ceramic projects can create a project, allow the Dairy Barn to fire it, then return to glaze the next studio session. The studio will not be open to the general public on the 1st, fourth or fifth Saturdays of each month.  ( Member studio usage opportunities will become available soon and will most likely be on the other Saturdays.)
Saturday studios have something for everyone.  Each session will be presided over by a Studio Commander!  The Commander will generally be Lyn Stanton, but we may have guest commanders from time to time as well.  The commander is there to monitor the participants, manage materials, take care of studio fees, lead scheduled activities and when available, keep a log of projects made, do demonstrations and answer questions.  The Commander is not responsible for teaching people new or advanced skills and will not allow people to use equipment they have not been trained to use (*See Studio Certification opportunities at the bottom of the page*).  This would primarily be the pottery wheels, hot waxes, and high fire glazes and glaze accessories.
Saturday Schedule:
1:00-2:00pm: "Littles and Bigs"- Creative Clay Sessions
Either Lyn or a guest artist will demonstrate a basic ceramics project designed to be made by a small child with the help of a grown up.  During this time, the Studio Artist will be available to assist with projects.  From pinch pot fish to textured slab dishes, littlest artists can explore their creative side and their grown-ups can too!  The same projects may be made later in the day as well, but instructor availability isn't guaranteed.  Recommended ages are 2-5 with a grown up.  Cost: $5.00 per item made (includes glazing and second fire when necessary).  Upcoming projects will be announced on Facebook at the beginning of each month.  Make sure to like us!
2:00-3:00 pm: "Let the Glazing Begin"!
Each session will have an hour where glazes and a glaze space is available to any participant with bisque fired projects ready to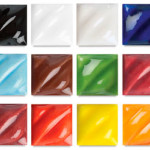 glaze.  The cost to glaze items made in "Little and Bigs" is included in the initial cost of the project.  Cost for other glazing projects (free style projects) will be added to the initial cost at $5 per half pound of clay.  glazing is not limited to this hour, but the Studio Commander will be available to help people, maintain a work space,  and answer questions or demonstrate.
3:00-5:00 Free Style!
During this time segment, the Studio Commander is available to offer assistance when possible.  Attendants can create their own projects and receive technical help from the Studio Commander.  Available mediums are clay and painting.  Canvasses may be be purchased when available.  Attendants who do not require assistance may enter the studio as early as 1:00 for Free Style.  But please be aware that the commander is committed to helping others with clay projects and glazing from 1-3.  We can not guarantee that table space/work space will be available before 3:00.  It is possible that the studio will be slow enough that the commander can assist you in getting started earlier than 3:00, but this is not guaranteed.  The Commander is not responsible for teaching people new or advanced skills and will not allow people to use equipment they have not been  certified to use.  *see Studio Certifications below.  The cost of ceramics projects is $5.00 per half pound of clay (about the size of a fist) and includes glazing and firing costs.  Participants ages 12-17 may attend without an adult provided they have submitted a Consent and Contact Form (See below).
Membership and Special Deals
About membership: The Dairy Barn Loves its members!  We rely on the generous support of our members and offer a variety of member benefit packages.  An individual or artist level entitles members to discounts for all classes and some workshops, and access the use of our art room/ceramics facilities with the completion of a free certification training.  Certified Members will also be provided with some storage space in the studio for their works in progress.  You can join online!  Click HERE
Costs: The cost of creating open studio/free style projects can vary depending on what the projects are.  The cost of projects is determined by the amount of clay.  Each half pound of clay is $5.00.   This includes firing and glazing.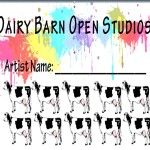 Cash Cow Punch Card: To make paying for projects a little easier week to week, the Barn is offering Cash Cow Punch Cards.  These cards are $50.00 ($45.00 for members!) and have ten cow images on them.  For every $5 spent, the studio commander will punch out a cow.  This is a convenient bulk option for people who plan to use the studio frequently, and is a great option for parents of kids ages 12-17 who want to attend the studios.  You can purchase a Cash Cow Card in the gift shop, from the Education Director or Studio Commander during open studios, or order one from our online shop and we'll mail it you you!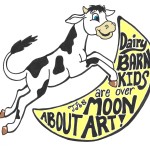 Youths in the Studio:  During Seconds and Third Saturdays, children ages 12-17 are permitted to be in the studio during Free Style time (3:00-5:00) unattended by an adult provided:
1.  Parent or guardian has submitted a Consent and Contact Form to be kept on file at the Dairy Barn.
2. Their parent or guardians signs them both in and out, at the beginning and end of each session.  Persons under 18 may not be dropped off outside of the building.  A parent or guardian must walk them to the studio and sign them in/out.
*Studio Certifications
Adult Members may use the ceramic/art studio's work space, equipment and storage un-assisted after completing a Studio Training Certification Workshop.  Workshops will be offered quarterly or as needed.  These are free to members and completion of this workshop will certify a member to use approved studio equipment during artist studio times.  Participants will also have access to their own storage space or shelf.  Opportunities to use the studio on days other than the Second and Third Saturdays will become available soon.  For more about ceramics studio certification workshops, or to sign up for one please CLICK HERE.
Questions?  Email lyn@dairybarn.org
You can keep up with open studios.  We will post our current, upcoming, and completed activities on our Facebook page so make sure to like us!