Sledding Hill Pottery
8455 Phillips Lane
Athens, OH 45701
(614) 657 – 9929
Ceramic Artist: Beth Weingroff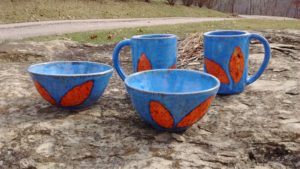 Beth Weingroff lives on 23 acres just a few miles from Ohio University.  Her studio, Sledding Hill Pottery, is set at the edge of the woods and is an inspiring place to work. Beth will be giving short throwing demonstrations for visitors on Sunday at 1:00 pm, 3:00 pm and 4:00 pm and unloading a kiln of new work at 2:00 pm. Beth Weingroff's pottery, like her surroundings, is functional and comfortable. Join her in her studio and enjoy a glass of homemade wine.
Beth first worked with clay as a teenager, and after a many-year gap, returned to clay.  She built her studio shortly after moving to Athens, Ohio in 2012.   Newly retired from work in classical music and instructional/UX design, Beth strives to bring a user-focused awareness to her work as a potter.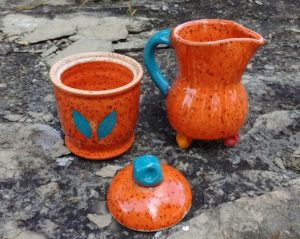 Bring warmth, color and a bit of happiness to the table – with hand thrown pieces from Sledding Hill Pottery.
Pottery will be available to purchase with cash or card.
Just down the road from Sledding Hill Pottery, Marilyn Wentworth is hosting her annual Alpaca Open House. Visit a  potter and an alpaca in the same afternoon!
For more information about Sledding Hill Pottery visit http://sleddinghillpottery.com/
Directions:
From Athens…Phillips Lane is off of County Road 25 (aka Rock Riffle Road).
* From Stimson Ave., cross over the Hocking River and turn left on County Road 25.
* Drive about 1 mile up the hill, past Longview Heights Rd.
* Turn left at the top of the ridge (just past a white fence) onto Phillips Lane.
* Drive 1/10th of a mile down the lane and you'll see a driveway and sign with an arrow for 8455.
* Important! Sledding Hill Pottery has a narrow driveway.  Before heading down the drive, please call Beth's cell and she'll confirm that the drive is clear of cars leaving the studio.  Cell: 614-657-9929