Snow Camp is only for Dairy Barn Arts Center members.  Not  Member? Click HERE!
 To Enroll your Camper:
1. Read the Parent Camper Handbook  then click the link below to complete the online registration form.
3. Select and click the appropriate payment option below to pay in the gallery shop
About Snow Camp:
When the Athens City Schools are closed due to inclement weather, kids can come to the Barn for an impromptu day of camp!  Snow Camp is a "members only service".  Families that maintain a $100 per year family membership are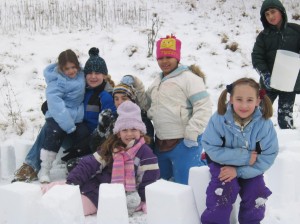 entitled to enroll their child in our snow camp for $60.00 per child, per day.  To reserve a camper's space, members pre-register and pay for the first two days in advance.  On the 2nd day, to hold the space for more days, parents are then asked to pay for the next two days  in advance.  Payments for additional days of camp can be made via check, or online.  Follow the link below the online registration form.  If days are paid for that are not used, the family will be issued camp credits to be used the following year on either Spring, Summer Snow Camp.  Snow Camp is open from November 1st through march 2nd, the week before OU and the Athens City Schools' Spring Break.
Snow camp is for children currently enrolled in kindergarten through 6th grade and is available only to member families.  For detailed information about our snow camp, camp policies and schedules check out the 2018-2019 Parent Camper Handbook
Or add membership to your snow camp registration form.  Memberships must be current through the winter season for eligibility for Snow camp.  You can sign up or renew membership right on the snow camp registration form. Please be aware, if your membership is not up to date, your camper's spot will not be reserved until it is!   If you need to check the status of your membership, email lyn@dairybarn.org and Lyn will be happy to check for you!

 Weather Advisories and Severity Levels Camp Policy
If at a "level 1": 

We will have camp according to regular schedule.

If we are at a "level 2":

  Folks are encouraged to stay off the roads so we urge families to wait till their roads are plowed and salted, but in most cases, we will be open.  If the Education or Executive Director deems the roads too hazardous however, there is a slight possibility we will not have camp.  Check our Facebook page for updates on snow day mornings!
If our area is declared a "level 3":

  It means that no one is supposed to be on the road by law.  If it is a level 3, we will not have camp.  If this is the case, we post on our Facebook page by 8:30.  Further, if Ohio University is closed for a half or full day due to weather, camp and the Dairy Barn will be closed for the full day.