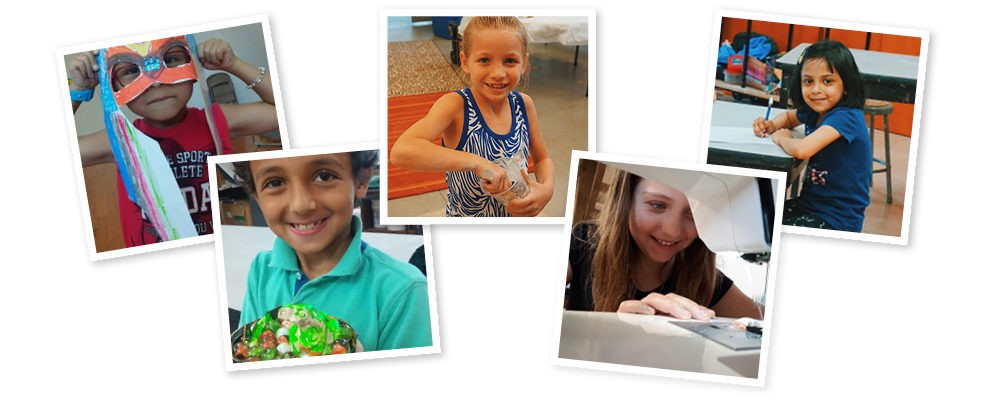 Summer Art Camp 2022
COVID-19 Plan | Parent-Camper Handbooks
Registration has closed for 2022. If you would like to receive information and future early notice enrollment opportunities for our Art Camp programs at The Dairy Barn, please click the button below.
DATES and THEMES!
2022 Summer Art Camp
Week 1: June 6 – 10
AM: Home Sweet Home
PM: Far and Away
Week 2: June 13 – 17
AM: Me and My Story
PM: Community Connection
Week 3: June 20 – 24
AM: Wizards!
PM: Lizards!
Week 4: July 11 – 15
AM: Animal Companions
PM: WILDlife
Week 5: July 18 – 22
AM: Art in Motion
PM: The Musical Mind
Week 6: August 8 – 12
AM: In the Light
PM: After Dark
2022 Teen Camp
July 25 – 29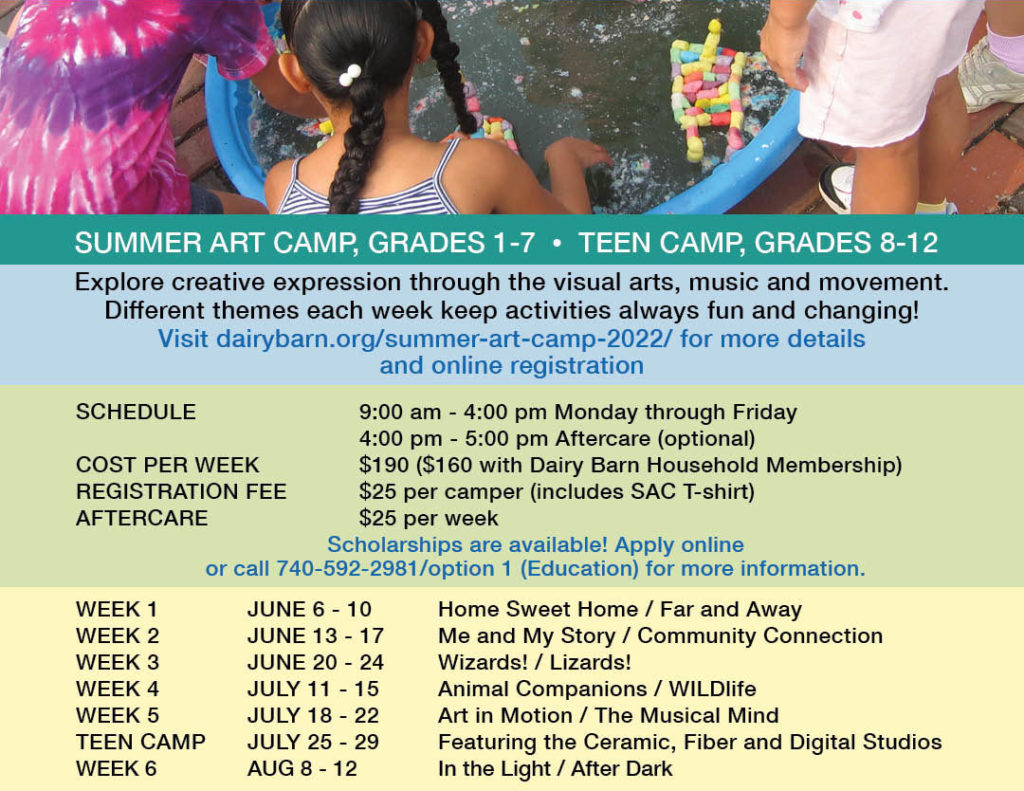 About Summer Art Camp
Summer Art Camp at The Dairy Barn is a fun, nurturing environment where kids can fully explore their creativity. For children with at least one year of kindergarten through rising seventh graders, campers are exposed to a whole world of art, art history, art appreciation, and art making. With a strong staff of experienced educators, Summer Art Camp activities embrace the STEAM approach to learning. Each week of camp, art-making activities celebrate a special theme in which to anchor hands-on creative thinking to other parts of our contemporary world: science, history, technology, world culture, literature, and more. The Dairy Barn Summer Art Camp is a child-centered opportunity for focused exploration in the creative arts and humanities.
Camp Community
Summer Art Camp embraces community and diversity, inviting campers to work together to create a comfortable, cooperative environment for all. Many campers are welcomed back year after year and help build the culture and continuity of camp fun that help younger campers settle in. Campers learn to take on leadership roles and become ambassadors of the arts, proud of their accomplishments at camp and the friendships they've made.
About Teen Camp
Teen Camp started in 2010 as an additional way to serve youth in Southeast Ohio. Special programming is created for rising eighth graders through rising twelfth graders and takes place for one full week each summer. Students who come to Teen Camp are provided intensive opportunities to explore art making and specific materials in-depth. Small groups allow for collaboration with Instructors in the concepts and planning of the week's art activities, providing another level of critical thinking around the creative process. Teen Camp curriculum often involves use of The Dairy Barn's specialized studios in the Fiber, Ceramic and Digital Arts.
Scholarships
Scholarships are available for families who would like to participate in Summer Art Camp but may require financial assistance. Accessibility and equity are at the foundation of the Summer Art Camp. Scholarship awards are confidential and recipients have a camp experience identical to their fellow campers.
Request a Scholarship | Donate a Scholarship