There are 8 weeks of elementary programming for Summer Art Camp in which camp assistants are needed.  Further work opportunities for work-study assistant positions the Barn may be available during other weeks of the summer.
The Dairy Barn partners with Ohio University's Campus Involvement Center to hire Summer Art Camp Assistants through the community work study program.
Position Description: The Dairy Barn Arts Center is looking for students enrolled in collegiate summer work-study programs which partner with the Dairy Barn for employment as teaching assistants for Summer Art Camp 2019.  Assistants would work no less than 8 weeks of summer programming.  Duties will include classroom management, assisting teachers with set up and clean up, maintaining safe spaces, lunch and recess duty, assisting individual campers with projects, and escorting them between classroom and activity spaces.  Ideal candidates are energetic and motivated individuals who enjoy working with children and have an interest in the arts.  Undergraduate students studying the arts, early childhood education, nonprofit administration, or social work will be greatly benefited by the experience.  Candidates must have reliable transportation.  A current BCI must be provided to the Education Director upon hire.
Depending on availability, assistants may also be utilized over the summer during non-camp weeks for general help at the Dairy Barn. These duties would include assisting in the gallery with admissions, building maintenance, light custodial duties, and retail in our gallery shop. In addition, qualified employees may be asked to assist with Dairy Barn and rental events.
Summer 2019 Camp Schedule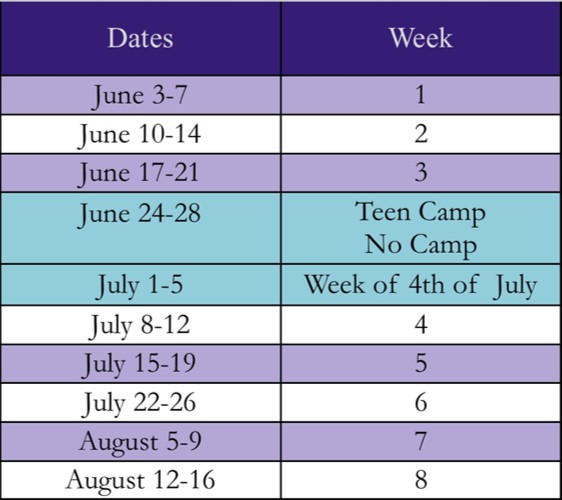 About Summer Art Camp
Summer Art Camp began in 1997 as a small three-week long summer kids program. As the years passed, the amount of programming increased in response to demand from the community. Summer Art Camp now features eight full weeks of programming for elementary school children going into first grade through going into 7th. Each week is divided into an AM session and PM each with their own themes. Themes range from focusing on world cultures to wizards and everywhere in between! Campers learn a variety of art making techniques and mediums including painting, drawing, printmaking, collage, ceramics, paper-making, mask-making, fabric dyeing, beading, design and much more! There have always been diverse components of integrated disciplines throughout the theme weeks. The programming is designed to include other academic subjects such as art history, art appreciation, multi-cultural art, the sciences, kinesthetics, mathematics, and literature and language arts.
In fulfilling the mission of our programming we have designed a summer art camp to provide children an opportunity to learn the arts in a SAFE and FUN environment as the two primary goals. We do this by educating the whole child through nurturing and encouragement of meaningful inquiry while blending academics, arts, and good old fashion play! We also seek to build children's critical thinking and leadership skills through creating a well structured environment with an emphasis on being respectful to our space and to one another. The kids at Summer Art Camp become their own community and make memories and friendships that will last them their lifetimes!
Summer Art Camp is overseen by the Education Director, who is assisted by a camp coordinator. Classes are taught by a team of professional local artists and teachers, who in term are aided by in class assistants. Each adult involved in camp plays a critical role to the success of the camp program as a whole. Each employee has an opportunity to make a lasting impression on a child in attendance and employees are expected to take the welfare and happiness of the campers very seriously.