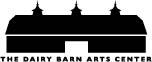 Executive Director
The Dairy Barn Arts Center of Southeastern Ohio seeks a motivated professional to fill the role of Executive Director of the Dairy Barn, a newly-renovated and expanded regional art center in Athens, Ohio.
The Executive Director is expected to provide artistic and administrative leadership, serving as the primary fundraiser and liaison to the community. Ideal candidate will have previous success in non-profit management and will have the following skills and experience:
Previous fundraising and grant writing experience with demonstrated success in identifying funding sources and donors and in securing funding.
Exceptional managerial, interpersonal, and communication skills with the experience required to remain highly focused under pressure.
Excellent organizational, time management, and communication skills with the ability to prioritize multiple assignments and activities.
The ability to work in a complex environment requiring significant collaboration, and a penchant for responding sensitively and patiently to staff, community, and donor inquiries in a timely manner.
A familiarity with, or the ability to quickly develop an affinity for, the Southeastern Ohio art community and to establish relationships with local non-profit, corporate, and civic organizations and their leaders.
A mindset for continuous improvement and professional development in order to keep the Dairy Barn relevant.
A passion for the arts that covers all forms of art and art education.
Minimum qualifications are a Bachelor's degree and five years of related professional work experience (additional years of work experience may be substituted for degree). Preferred qualifications are a Master's degree in a related field and an additional two years in a related setting in a leadership role.
This is a salaried, full-time position with an anticipated starting salary of $50,000-$60,000 (commensurate with experience). Please send resume, cover letter, and a list of five references to: Dairy Barn Search Committee, PO 747, Athens, Oh 45701 or via e-mail to finmanager@dairybarn.org. Applications will be accepted until the position is filled, however, screening will begin October 10, 2019.
The Dairy Barn Arts Center is located in Athens, Ohio. With a newly-renovated and expanded facility, the organization has 400 members, hosts over 3,000 participants annually in art education programming, and welcomes 24,000 visitors annually to its exhibits and events.
The Dairy Barn Arts Center is an equal opportunity employer.