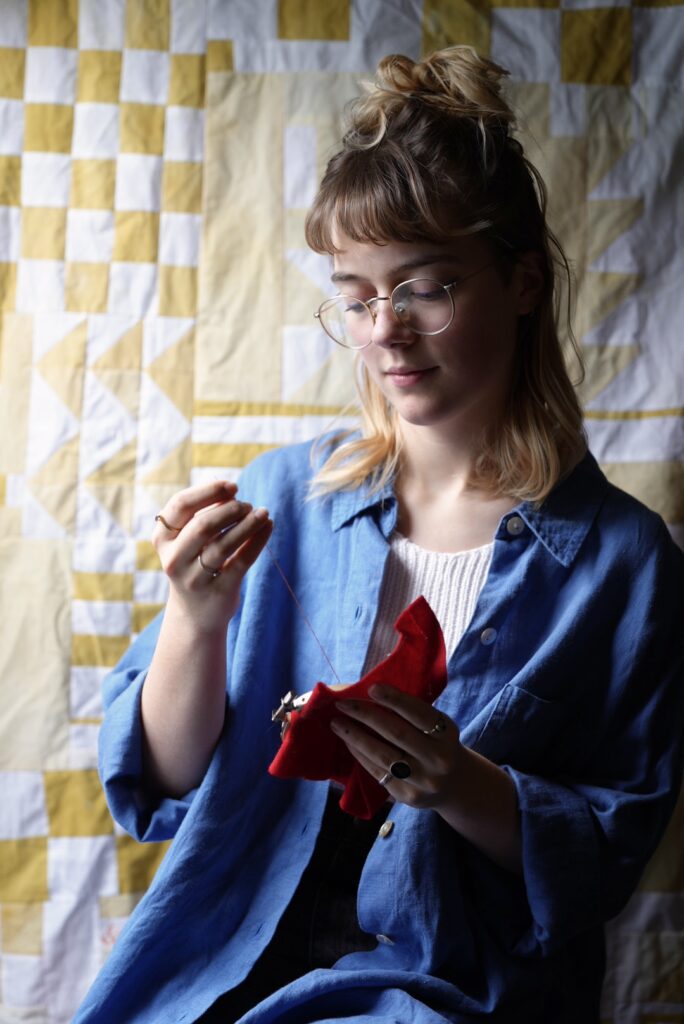 Aubrey jo Blue is a multimedia artist of various kinds. They hold degrees in art history and comparative studies from Ohio State University in addition to an art minor. While there, they worked at the Columbus Museum of Art as well as at the Wexner Center for the Arts. Their university focus was on curation and photography, among a larger study of modern art and civic institutions. Their film work was featured in the annual John Hopkins exhibition. After the defense of a thesis (https://kb.osu.edu/handle/1811/92487) on community making in art spaces, Aubrey pivoted their interest after graduating in 2021.
Aubrey is enthusiastic about the power of craft, community, and restoring agency. They hold the belief that all people should be able to fix the textiles in their lives and that mending is an act of love. They've taught many mending and hand stitching classes and experience great joy in skill sharing. Beyond teaching, they make quilts, garments, vessels, and more.
Aubrey lives in Athens with their partner Gene Deubler, an arborist, and writer. They write a weekly newsletter called Meaning/Making about spirituality and art making, run Powered by Hand LLC, make artwork of fiber ceramic and wood, tutor children in and out of public school, and work as a farming apprentice at Blaney Family Farm.
Instagram: @aubreyjoblue
Patreon: https://www.patreon.com/contemporaryhand
Substack: contemporaryhand.substack.com