SOLO, GROUP, & CURATED EXHIBITION SUBMISSIONS
2023-2024 SUBMISSIONS NOW OPEN
To propose a exhibition at The Dairy Barn Arts Center Complete the Exhibit Proposal Form.  Contact exhibitions@dairybarn.org with questions.
The Dairy Barn Arts Center is now accepting exhibition proposals for the 2023 schedule. After a successful renovation to the premises, the Dairy Barn now has an additional gallery space that will be open to proposals from artists of all types.
The newly rennovated Chaddock and Morrow Gallery is made up of 500 square feet and roughly 90 linear footage. Exhibits in this gallery are typically scheduled for 4-6 weeks. Click here to view the C&M Gallery Layout.
The Dairy Barn also has exhibit space in our Second Floor Lobby Gallery and at the Holzer Community Gallery. These locations is ideal for framed works and artists wishing to exhibit over 4-6 weeks.
Artists accepted are welcome to host a reception for their show, and will be responsible for their own food. The Dairy Barn Arts Center has a cash bar that can be open for such events, prior arrangements must be made with our Events Manager.
Here is a video of and exhibition installed in the C&M Gallery.
Images of Best Served Cold by Shelley Brenner Baird at The Dairy Barn Arts Center, Chaddock and Morrow Gallery.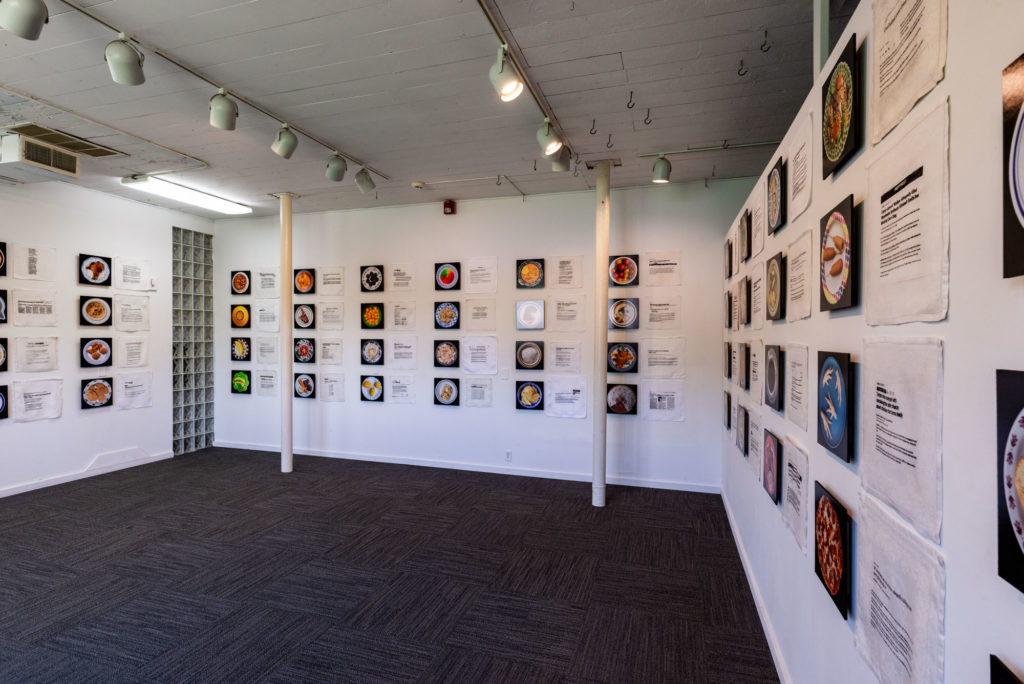 ---
Outdoor Installations: We have 32 acres of woods, a new hiking trail and a beautiful front and rear lawn at the Dairy Barn. We can accept proposals for outdoor installations, but we cannot insure these.
Holzer Community Gallery: You may submit up to 12 pieces for consideration. On your proposal form, indicate if you are interested in exhibiting in Holzer Clinic Community Gallery. Works at Holzer are up for 2-4 months (Framed, 2D works only).
---
Types of Proposals: – Solo exhibitions – Group exhibitions – Curatorial projects
Eligibility: Anyone can submit a proposal. Artists should maintain a consistent and strong body of work when creating a proposal. Installations are welcome.
Media / Genre: Open to all traditional and non-traditional media.
Delivery / Return of Work: Artists MUST cover the cost to transport artworks to and from the gallery. The artist is responsible for all shipping costs. All work selected must be ready to install. Works that are not gallery-ready differ significantly from submitted images, or show poor craftsmanship can be disqualified. Work may be shipped or hand delivered. Artwork should be shipped in a substantial, reusable container. The DBAC is not responsible for damage due to incorrect packing or an insufficient container. All artwork will be handled with care and returned in the original packing material. The artist is responsible for notifying the DBAC in writing a change of address. The DBAC will not accept personal checks or cash for return shipping. A printed return label from the shipper is preferred and should be provided before the close of the exhibition or in shipped box(es). Please keep a record of the size and weight of your box(es) for this purpose.
Insurance: The DBAC cannot insure any artwork for an amount in excess of 65% of its fair market value, and reserves the right to limit the amount of insurance coverage on a particular piece. In the event of loss or damage, it will be the artist's responsibility to provide documentation concerning the value of the artwork and the extent of the claim. Insurance values will be in effect for as long as the artwork is part of the exhibition.
Sales: Artists whose artwork is not for sale (NFS) must write NFS. In the event of a sale, the artist will be paid 65% of the retail price listed on this form. The DBAC will retain a 35% commission on artwork sold during the exhibition at the DBAC. An artwork identified as FOR SALE (e.g. with an established retail price in U.S. Dollars) must maintain that status for as long as it is part of the active collection. Artists are also invited to sell works in the Gallery Shop. In the event that the artist sells work in the Gallery Shop, the DBAC will retain a 35% commission on any sold work.
Images: The DBAC accepts only digital images/files for consideration. See specifications below. The DBAC reserves the right to reproduce and distribute the images through print and electronic media for promotion of the exhibition and exhibitors. Submission CDs will not be returned. emailed entries strongly preferred, online form is required)
File Naming: All entry files regardless of media must be named with the artist's last name, underscore, first name, underscore, title of the work (i.e. Doe_Jane_Title.jpg). Please do NOT include any other information on the file name.
Detail, installation or alternate view images must include the word detail in the file name (i.e. Doe_Jane_Title_Detail1.jpg). Any images without the word DETAIL will be counted as an additional entry or discounted.
Image files should be high quality JPG format, and no smaller than 1000 pixels in any direction (13") and 72 dpi.
Images should be oriented properly (top of image is top of artwork) and should not include text or borders that are not part of the actual work.
VIDEO, MOTION OR INTERACTIVE works should be submitted by providing a viewable online link, shown in its full length (YouTube, Vimeo, DropBox etc.). A JPG image should still be provided to represent the entry, and the title should include the term 'video.'
ARTIST AGREEMENT:
By submitting, you agree to the terms and conditions of the entry and exhibition. You agree to make the work submitted available to the DBAC and that you will ship/deliver it to the DBAC should you be selected for exhibition.