Quilt National Tour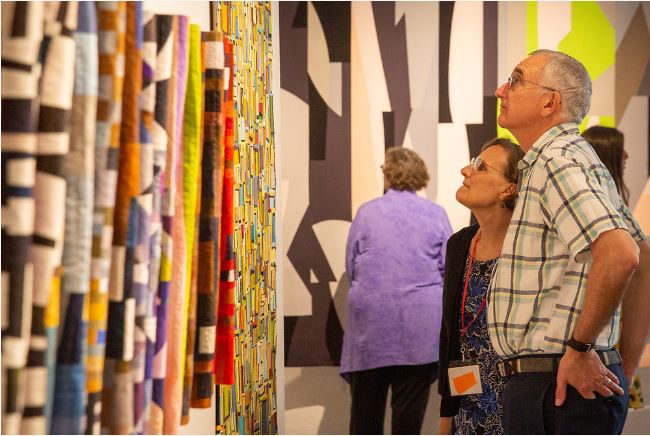 Each Quilt National collection tours for approximately two years following the closing of the exhibition at The Dairy Barn in Athens. Quilt National has been touring since 1983! View the past venues here.
Quilt National '21 is now available for tour bookings. For information about hosting a Quilt National '21 touring collection, email exhibitions@dairybarn.org.

---
Quilt National '21 Tour:
Mystic, Connecticut
March 18 – April 17, 2022
Collection B
COLLECTION A
Catherine Beard
Sue Benner
Margaret Black
Anna Brown
Sandra Champion
Robbi Eklow
Audrey Esarey
Jean M.Evans
Kerri Green
Barbara Oliver Hartman
Susann Heymann
LeAnn Hileman
Judy Hooworth
Donalee Kennedy
Paula Kovarik
Carol Krueger
Susan Lapham
Kestrel Michaud
Judith Mundwiler
Barbara Nepom
Irene Roderick
Michael Ross
Yasuko Saito
Sandy Shelenberger
Maria Shell
Susan Shie
Anne Smith
Kit Vincent
Sarah Ward
Isabelle Wiessler
COLLECTION B
Mary Arnold
Pat Budge
Beth Carney
Nancy Cordry
Cheryl Costley
Nancy Crasco
Helen Geglio
Valerie Goodwin
Betty Hahn
Jean Howard
Mary Anne Jordan
Barbara Kanaya
Jill Kerttula
Misik Kim
Carol Larson
Jane Lloyd
Jeanne Marklin
Judy Martin
Valerie Maser-Flanagan
Melody Money
Dan Olfe
Gabrielle Paquin
Arturo A. Sandoval
Catherine Smith
Cécile Trentini
Sandra L.H. Woock
COLLECTION C
Susan Bianchi
Betty Busby
Carson Converse
Willy Doreleijers
Chiaki Dosho
Petra Fallaux
Caryl Bryer Fallert-Gentry
Sharon Havelka
Jill Jensen
Linda M. Kim
Judy Kirpich
Diane Melms
Alicia Merrett
Kathy Nida
Pat Pauly
Shawn Quinlan
Daren Redman
Jean Renli Jurgenson
Beth Schnellenberger
Joan Schulze
Alison Schwabe
Gerri Spilka
Janet Swigler
Maggie Vanderweit
---
WIDEOPEN: Excellence in Photography Tour
WideOpen is a celebration of all genres of photography. Founded in 2018, this juried exhibition premiers at The Dairy Barn Arts Center biennially. Past jurors include Pete Souza, Ardine Nelson, Michael Rubenstien in 2020, and Brian Smith, Brooke Shaden, and Molly Roberts in 2018.
Print and digital files are available for exhibit tour. Please contact exhibitions@dairybarn.org for more information.