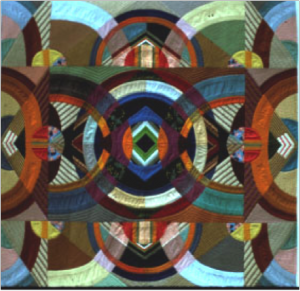 This was the first major exhibition at the newly organized Dairy Barn Cultural Arts Center. Although it was called an arts center, the interior of the building was still very much a barn. The trenches were still in the concrete floors; the stanchions were still in place; there was nothing covering the windows; and even though the cows had been gone for a decade, there were flies everywhere. While it is unimaginable that anyone would consider displaying quilts in such an environment today, the artists whose works were deemed "not a quilt" (and therefore quite unacceptable to the organizers of the other quilt shows of the day) were delighted to finally have an opportunity and a venue where this newly developing cousin of the classic quilt — the art quilt — could finally be seen.
Under the administrative leadership of Nancy Crow, Françoise Barnes, and Virginia Randles, a dedicated corps of volunteers organized the distribution of the entry forms and the jury process. One hundred ninety six artists submitted 390 works. Jurors Michael James, Renee Seidel, and Gary Schwindler selected 56 quilts by 43 artists. The exhibitiors represented twenty states and one foreign country. There were no awards granted. Included among the exhibitors for that first show were Joyce Marquiss Carey, Terrie Hancock Mangat, Rhoda Cohen, Debra Lunn, Nancy Halpern, Elaine Plogman, Beth Gutcheon, Chris Wolf Edmonds, Tafi Brown, and Maria McCormick-Snyder.
In the program that was available in Athens, Ohio, during the 1979 exhibition, there was the following introduction, written by Gary Schwindler for this show. Click here to read his introduction.
NOTE: The artists retain the copyrights to their images.