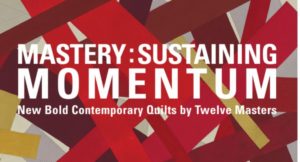 Mastery: Sustaining Momentum
May 28 – November 27, 2016

Twelve Master Quilter's Work to Appear in "Mastery:  Sustaining Momentum"
(ATHENS, Ohio)- New, bold, large scale works by twelve master quilters will be featured at our upcoming exhibition, Mastery: Sustaining Momentum at the Dairy Barn Arts Center in Athens, OH from May 28 – November 27, 2016. The exhibit is curated by Nancy Crow and sponsored by The Chaddock Group.
Artists were asked to create three large scale works for Mastery: Sustaining Momentum. The show will feature many talented master artists from around the world and the nation: Margaret Boys-Wolf (Washington), Bonnie Bucknam (Washington), Nancy Crow (Ohio), Marina Kamenskaya (Illinois), Judy Kirpich (Maryland), Colleen Kole (Michigan), Helen Mcbride Richter (Georgia), Leslie Riley (Illinois), Arturo Alonzo Sandoval (Kentucky), Gerri Spilka (Pennsylvania), Heide Stoll-Weber (Germany), and Kit Vincent (Canada). Many of these extraordinary individuals have presented works in past Quilt National exhibitions and this exhibition will give audiences a chance to see a number of their works in a truly monumental scale.
"The traditions of the art form of quilt making are extended in this exciting exhibition," said Meaghan Duffy, Quilt National and Exhibitions Director. "The large scale nature of these masters' works lends our audience members a vantage point not as easily accessed with smaller scaled works. Every one of these quilts demonstrates mastery in its own way.  We challenge our audience to come and take in all of their immensity and mastery."
In addition to the exhibition, The Dairy Barn Arts Center will be printing a full color catalog which will feature three of the large works by each of the artists. The catalog will be available only at the Dairy Barn Arts Center and presales are available online at www.dairybarn.org.  The catalogs will be shipped or can be picked up beginning on May 28, 2016 from the Dairy Barn. The exhibit will be open to the public Tuesday through Sunday 12:00 p.m. – 5:00 p.m., with evening hours on Thursdays until 8:00 p.m. General admission is $10; seniors and students are $8.00; children under 12 and Dairy Barn Members are admitted free of charge. Mastery: Sustaining Momentum is presented by the Dairy Barn Arts Center, with additional support provided by:  The Chaddock Group; The Athens County Convention and Visitor's Bureau; the Ohio Arts Council; and the National Endowment for the Arts.
The Dairy Barn Arts Center in Athens, Ohio is world-renowned for its biennial Quilt National exhibition, and Athens was recently listed in USA Today as one of the top 10 small arts towns in America. Built in 1914, the Dairy Barn is listed on the National Register of Historic Places and features a 6500 square-foot gallery. Two of the structure's distinctive architectural elements are its slate roof and three cupolas. It sits on 36 acres of scenic pastoral land.
For more information contact the Exhibitions Director, The Dairy Barn, P.O. Box 747, Athens, OH  45701.  Tel: (740) 592-4981, or email: qn@dairybarn.org
###