Best in Show
Highwater by Hillary Gattian
Selected by the jury for it's expert craft and composition, the jury enjoyed how the artist utilized minimal subject matter to tell a story relevant to our region and beyond.

Hillary Gattian
Athens, Ohio
Highwater, 2021
Colored pencil on vellum
Projecting future sea level rise is challenging and controversial. My work explores the dichotomy between the built environment and the natural environment creating a dialogue about space. I question the Western myth of progress and its consequential impact on mental and environmental health. These drawings highlight a temporary band-aid to the problem of rising waters while the embroidered images depict the various man-made constructions that attempt to suppress sea level rise around the world. Is this strategy enough or is it time to consider retreat?
Most Innovative Use of Material
Vestigial Remnant (LF 007) and Vestigial Remnant (LF 008) by Shalya Marsh
The jury selected two artworks in the artists Vestigial Remnant series to receive the Most Innovative use of Material Award. The jury was impressed with the artists mastery of a new method creation using 3-D rendering a printing to create these ceramic and mixed-media artworks.
Shalya Marsh
Morgantown, West Virginia
Vestigial Remnant (LF 007) and Vestigial Remnant (LF 008), 2020
Porcelain, vinyl, and composite, cone 6 oxidation
I strive to elicit an exploration of form and structure. Initial inspections lead to discoveries revealing what is hidden or inducing frustration at not being able to access every aspect of the work. Physical manifestations of cast shadows serve to give substance to both objects and their voids but raise questions as to what is real and what is not. Abstraction aids in obfuscating what is seen, creating interactions that mimic interpersonal relationships, interactions often filled with tension and complexity.
Juror's Awards
Each jury member selected one artwork to receive a Juror's Award. The artworks were selected on their craft, concept, and their importance of representing contemporary artwork of our region.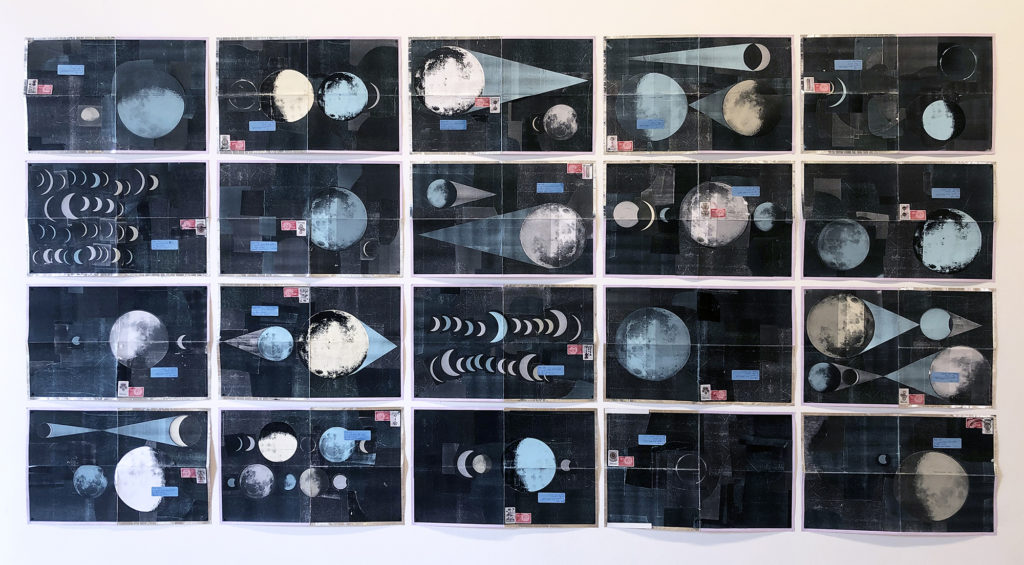 Selected by Juror Emily Prentice
Brian Hitselberger
Lafayette, Indiana
Moon Pix, 2021
Xerox collage, metal foil tape, and postage on paper
During the prolonged time of enforced separation as a result of lockdown, quarantine, social distancing, etc., I was fascinated by reports of increased letter-writing between people who weren't able to be near one another physically. A letter between two parties creates a document of a relationship, and marks it with a timestamp. It also marks a distance between sender and receiver while simultaneously mediating that distance. I created this series of 20 collages made from cut-up xeroxes made from printed images of moon daguerreotypes. I folded them into quarters in my studio in Indiana, addressed them to the curator of the exhibition, and mailed them directly to the gallery. (Edited for length.)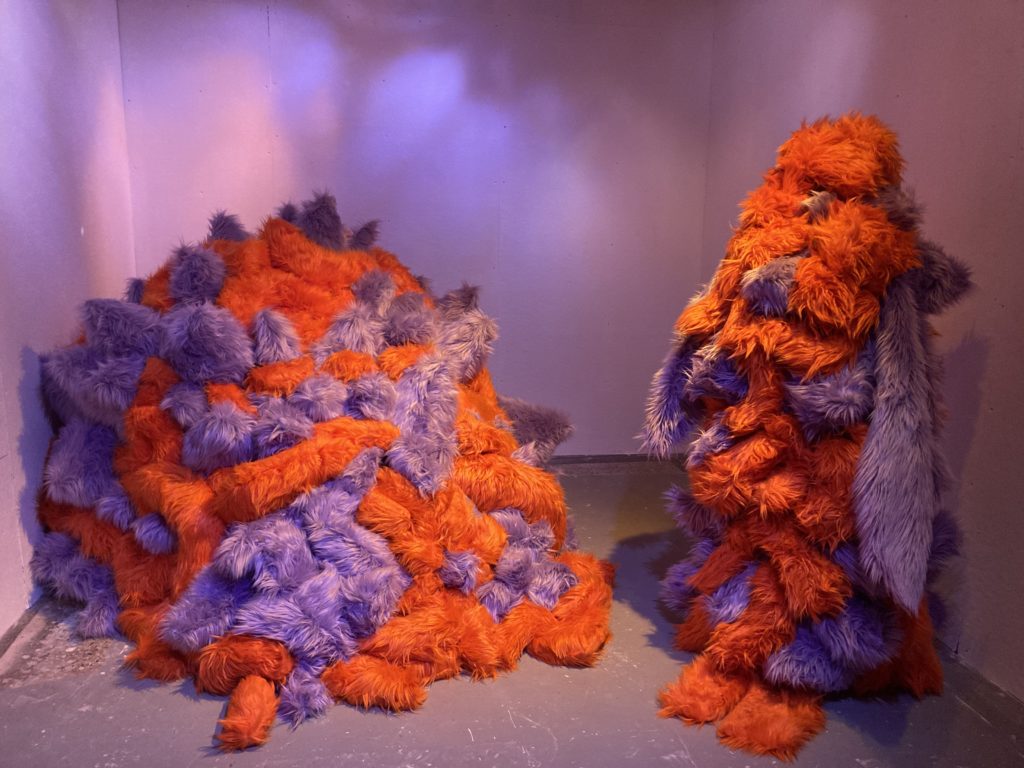 Selected by juror Quinn A. Hunter
Lily Erb
Athens, Ohio
Encounter, 2021
Video enabled by QR Code and costume made of fabric and polyfill
As I explore community dynamics in a time of societal reimaging, I am interested in points of friction in unequal power relationships. Through a Science Fiction lens, I ask questions: When does taking care of an individual become smothering? And how do individuals react to confrontation and friction in the interdependent relationships necessary for building communities? When does conflict arise and can that conflict become generative? When things like food transportation systems become halted or delayed and people depend on each other for basic survival more acutely, how do we work through it?
View the performance at lilyerb.com/encounter.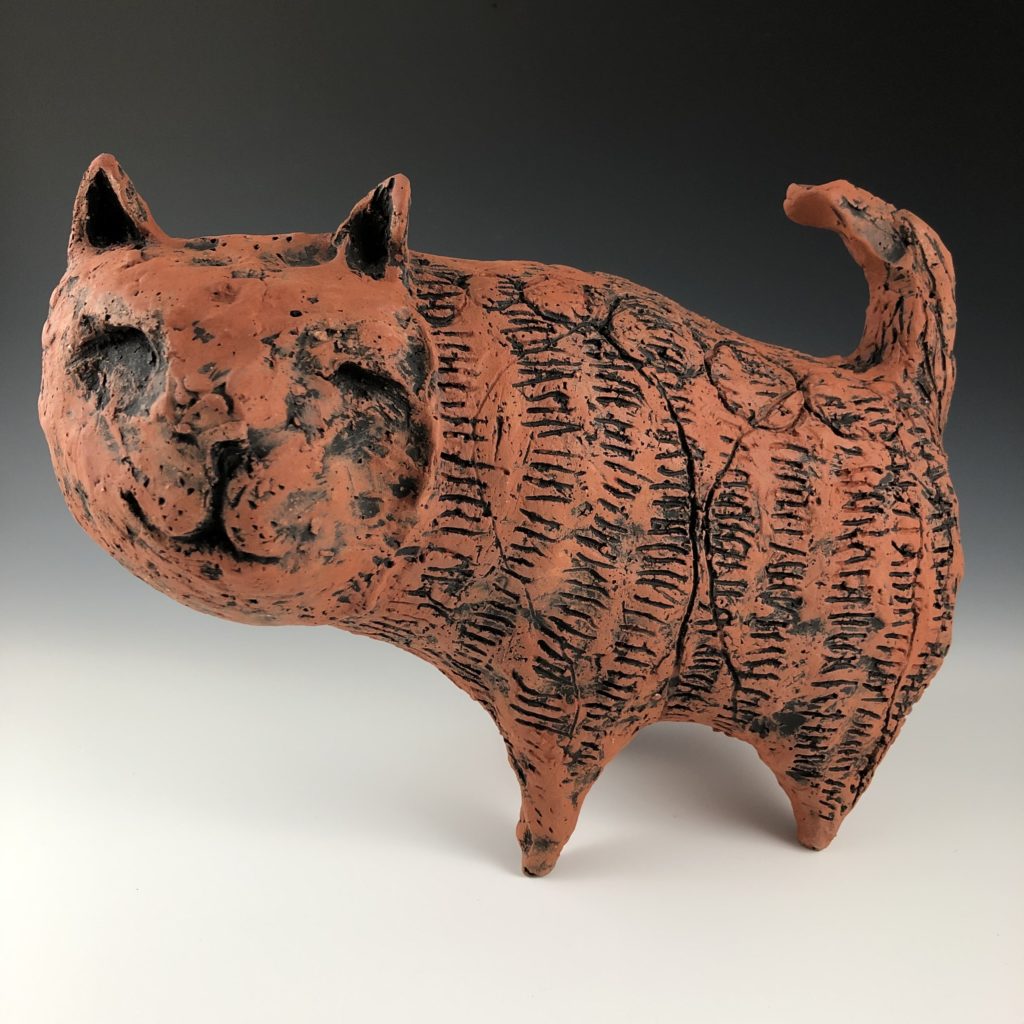 Selected by juror Shoji Satake.
Christopher St. John
The Plains, Ohio
Cat and Orange, 2021
Terracotta, oxidation fired to cone 04
I promote positive and responsible stewardship of the biosphere we share with all life on this unique and beautiful planet.